Suppliers & Manufacturers
EyouAgro is an innovative supplier of vineyard bird netting. Our products cover bird netting, shade netting, hail netting, and so on.
At EyouAgro, you can custom bird netting for your orchard, no matter how many quantities, you will get the best solution.
Vineyard Netting to Protect Your Grapesvine Orchard
Find the right Bird Netting below for your farms;
All of our products are provided with up to 5 years warranty.
Vineyard Drape Netting is a kind of overhead bird protection for grapevines. Cost-Effective. 5 years Warranty.Special strong selvage. 
35g/m2 · 15x15mm
Vineyard Side Netting is a type of narrow-width netting to protect Grapes bearing Vines by placing on the lateral sides of the vines. 
60g/m2 · 8.5×2.5/2mm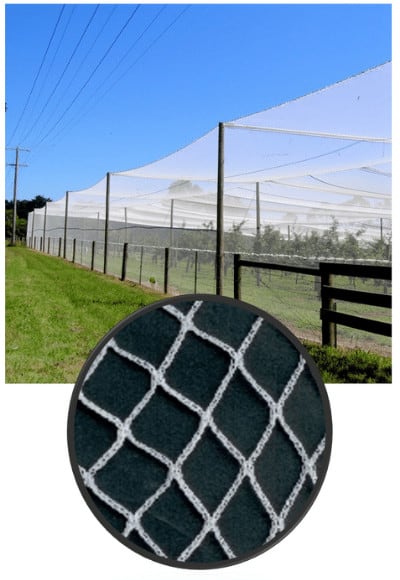 Vineyard Overhead Netting
Overhead Bird Netting is a Heavy duty innovative design. Strong Twist strands mesh, ideal for resisting the big birds, like parrots
60g/m2 · 15x15mm
Product No.
Mesh Size [mm]
Weight [g/m2]
Shade Value
Size [m]
UV Warranty
Ideal for 
Vineyard Drape Netting
15x15mm
35
23%
      4.0x300m        5.0x300m
5 years
Light Weight | Overhead bird protection
Vineyard Side Netting
8.5×2.5/2mm
60
18%
 0.75x500m   0.90x500m
5 years
Cost-Effective  | Bee and Wasp Protection
Overhead Bird Netting
15x15mm
60
24%
 4 -10 x100m               
12 -18 x100m
8 years
Heavy Duty, Strong | Popular for overhead
Need any Customized Add-on Service for Your
Bird Netting
?
China-based Bird Netting Factory
Vineyard Bird Netting Suppliers
Protect your orchard and vineyard with high-quality bird netting
EyouAgro is an innovative manufacturer of crop protection netting to the commercial viticultural and horticultural markets around the world.
Our mission is to provide commercial growers around the world with the best elementary cover from wildlife and the vagaries of nature.
 We specialize in premium polymer netting for crop protection, for example, to protect grapevines and other crops from hail, birds, insects, and other wildlife.
Want to save even more money?
Our wholesale prices are unbeatable.
Our nets are often custom designed to suit harsh local climatic, growing conditions and growing styles.
Contact us today for more information!
Continuous Technological Improvement
Excellent Competence, OEM/ODM Available
Non-toxic Material, in Compliance with Food
ISO Certification,  100% Quality Warranty 
Bulk Production, Quick Shippment
Why More Than 250+ Clients Over the World Love Work With Us?
What Our Clients Are Saying About Us
My name is Ms. Svetlana Gogu from Chilean Company. My company mainly operates on Bird Netting. Eyouagro with good quality, fine workmanship and timely reply, and important, cooperate with the Eyouagro without trouble, the sales person always can understand my emails meaning. This feeling makes me good, and comfortable. Thanks.
We are Italy professional raschel bird netting manufacturer, Few days ago I did an accelerated aging test on plant where I mounted your nettings. The test was very positive and products had worked very well. It is very happy to find EyouAgro company, they give us a very good reputation in our place, and let our customers to enjoy the cheap price with very high quality.
Ready to streamline your prep and Agrotextile project from China? Write us today and our product experts are ready to help.
You can contact us by the contact form below or write or call us today!
Send us a message if you have any questions or request a quote. We will be back to you ASAP!
27-913, Lane 1289,
East Park Road,
Qingpu, Shanghai,
201700,China