Introduction
Cherry farmers are always looking for ways to increase their yields and protect their crops from the elements.
One way to do this is by using cherry rain cover tarpaulins.
Rain protection can help to keep your cherry plants from getting too wet, which can lead to mold and rot.
It can also help to deflect some of the wind and sun, which can damage delicate cherry blossoms. Using rain cover tarpaulins is a simple and effective way to improve your cherry crop's chances of success.
Here's what you need to know about the plastic rain cover for cherry trees.
What are the Benefits of rain cover tarpaulins for cherry plants?
Rain can cause damage to cherries in a number of ways, including causing fruit splitting, rain cracking, promoting the growth of fungal diseases, and washing away protective fungicides.
Fruit rot is a common issue in cherry plantations, and can be caused by various fungal pathogens such as Monilinia laxa and Monilinia fructicola. These fungi thrive in moist conditions and can cause the fruit to rot while it is still on the tree or after it has been harvested.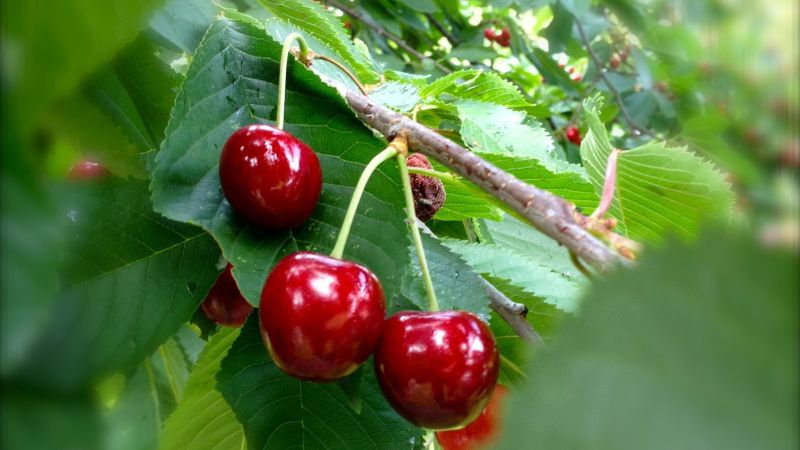 To prevent fruit rot, cherry growers may add a protective cover (plastic rain shield) to the cherry, which helps protect it from rain and thus reduces the problem of fruit rot.
Studies have shown that the use of plastic tarpaulins can reduce the use of fungicides and prevent the happening of fruit rot.
Using orchard rain protection covers can help cherry farmers enjoy higher yields and better quality harvests.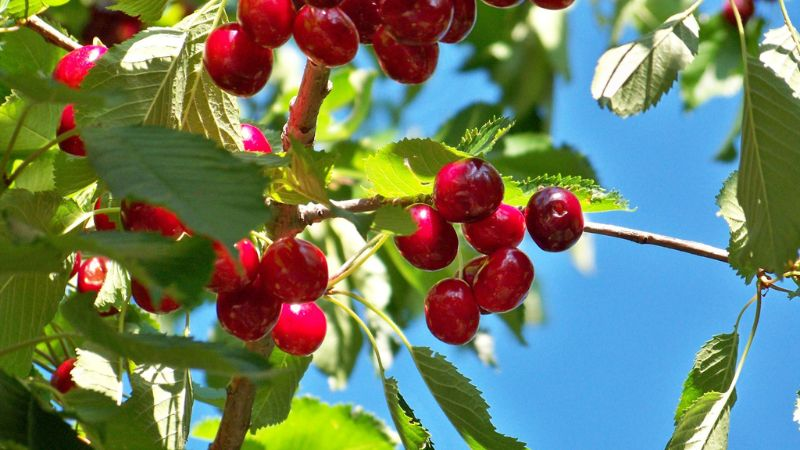 Materials and Advantages
Materials used for the cherry rain cover tarpaulins
EyouAgro cherry rain cover tarpaulins are made of high-density polyethylene woven waterproof tarpaulin fabric.
They are low-density polyethylene laminated on both sides (called reinforced laminated cover) to ensure 100% waterproofness and are reinforced at the seams.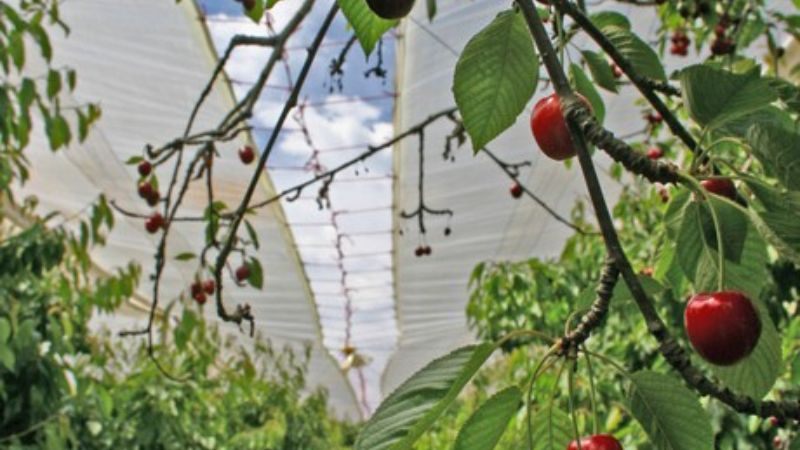 The finished covers have grommets, eyelets, or raw drilled holes for easy anchoring to crop protection structures or systems.
Cherry rain cover tarpaulins can also increase light scattering. Scattered light makes plants photosynthesize more fully.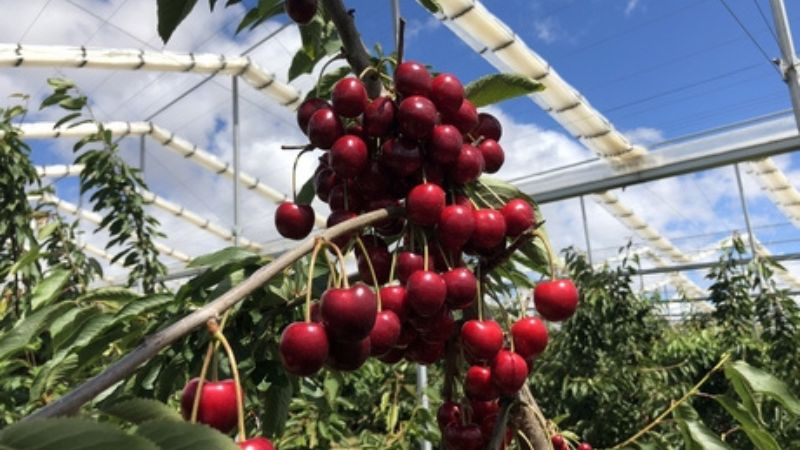 Advantages of the chosen materials and design
High waterproof performance
Tear resistant, strong, and more durable than blow molding film
Anti-aging, suitable for outdoor use
Easy installation
How to Install and Use
Steps for installing the plastic rain shield on cherry plants
Before customizing the fruit tree tent cover, you need to measure the size of the rain cloth your cherry orchard needs. Each piece of tarpaulin is fitted with stationary eyelets for you when it is made.
Install brackets and cables for your cherry orchard to hold the tarpaulin in place.
Open the rain cover. Stretch the bungee cords through the eyelets of the tarpaulin to cushion the heavy blow of the wind.
And secure the cherry rain cover tarpaulins you need with the required accessories to the cables.
Steps for using a plastic rain shield
Check the cherry rain tarpaulin regularly and repair it in time when there is any damage.
The plastic rain shield can be tied up or rolled up during sunny weather to allow plants to photosynthesize freely, but don't forget to roll down the plastic rain shield again when the rain comes or when the night comes, so that your cherry plants can be well protected.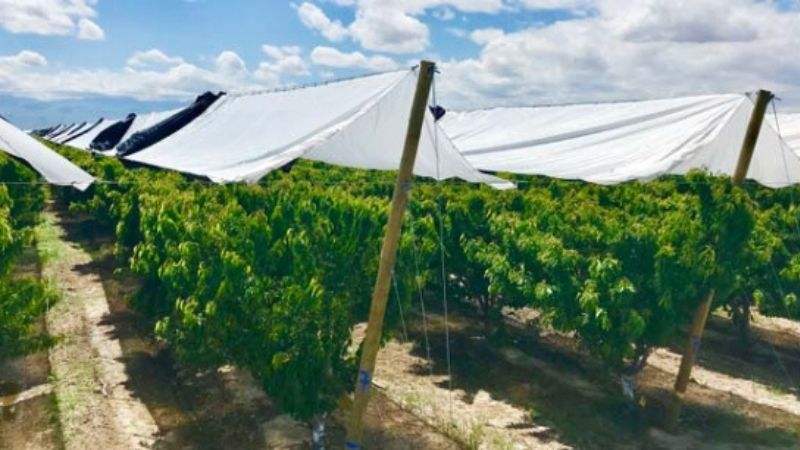 Testimonial
John Smith, Cherry Farmer in Chile
"I recently bought plastic rain shields for my cherry plants, and it has made a huge difference in the health of my plants. I'm getting bigger yields every season, and I can see that the plastic rain shield is helping to keep out moisture and prevent mold from forming on my fruit. Highly recommended!"
Steven Williams, Cherry Farmer in Mexico
"We have been using plastic rain shields for our cherry plants for a few years now, and we've found them to be very effective. They keep the fruit safe from rain damage, and the plastic shields help deflect the sun's rays so our plants don't get too warm. Highly recommended!"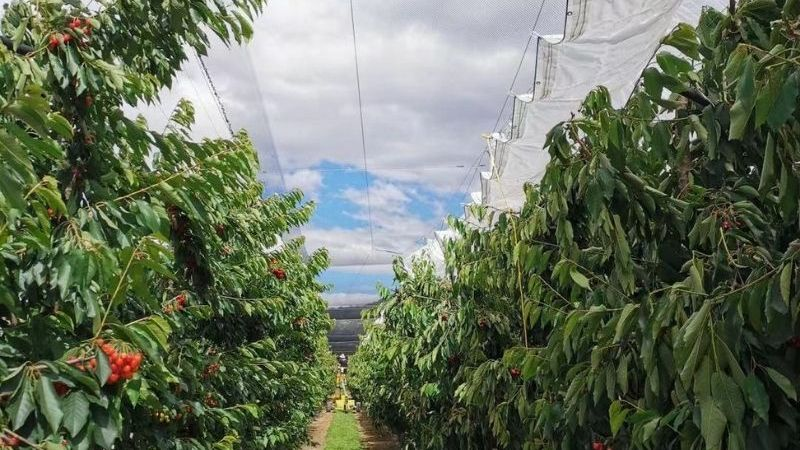 FAQ
When to install the plastic rain shield for the cherry plant?
The best time to install a plastic rain shield for a cherry plant is 3-4 weeks before harvest to protect the plant and its fruit from damage.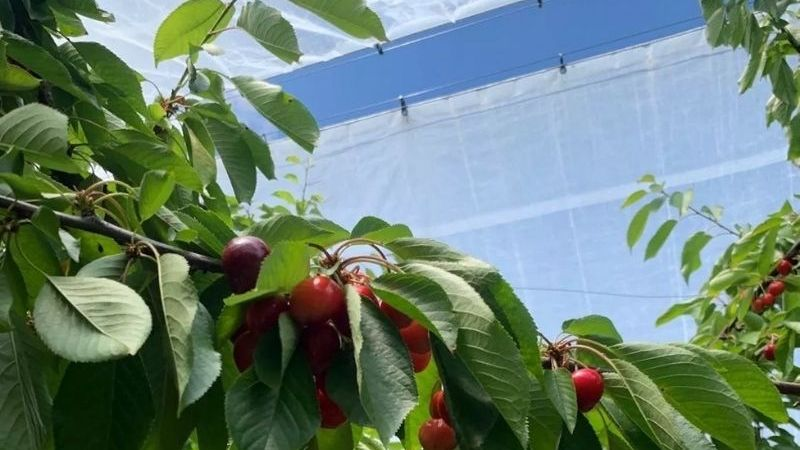 Will covering with rain tarpaulin affect the growth of cherries?
No.
Studies have shown that the installation of tarpaulins at this stage does not affect the ripening of the cherries or damage the quality of the fruit.
It's important to make sure the rain shield is properly secured and does not come into contact with the foliage or branches, which could damage the plant.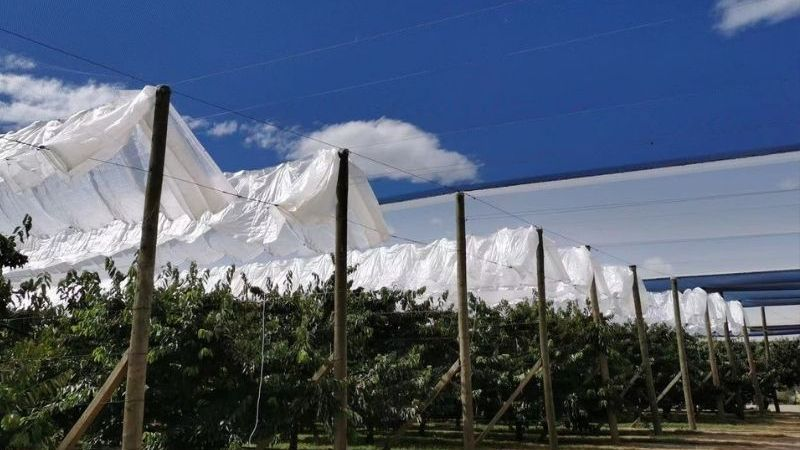 Conclusion
Using plastic rain cover is an effective and efficient way to protect your cherry plants and other soft fruits from the elements. It helps keep them dry, reduces the risk of mold and rot, and deflects some of the sun and wind. By following the instructions for installation and use, you can enjoy higher yields and better-quality harvests from your cherry crop.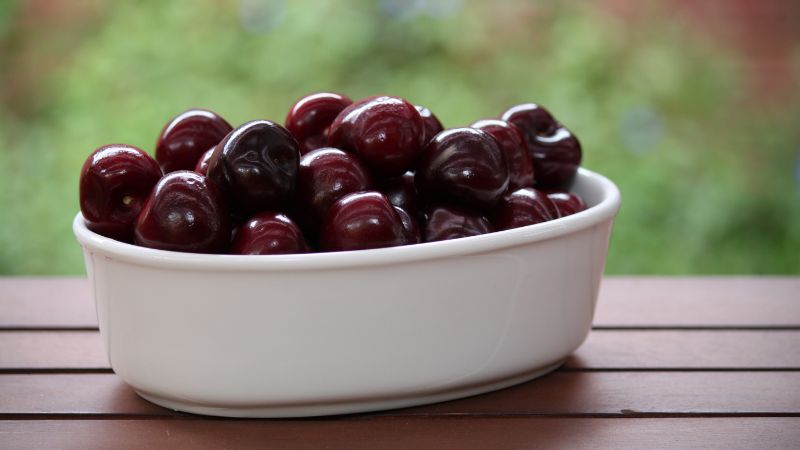 EyouAgro is a professional cherry covers manufacturer, which can provide plastic rain shields of various sizes and quality to meet your needs.
We look forward to helping you protect your cherry crop.
Please contact us if you have any questions.