The most effective solution to all the insect infestation issues faced by your crops.
Commercial Insect Netting
The Best Choices for Covering Your Garden or Greenhouse.
EyouAgro Insect Netting is a trusted solution for protecting your fruits and vegetables from insect pests. This insect exclusion netting is manufactured from non-toxic high-density polypropylene.
Prevent fruit trees, berry bushes, grapes, and other plants from being destroyed by pests such as Pest
Protects from insects, birds, and other animals
Protects from rain or frost damage and harmful sun rays 
Easy installation, lasts for years.
Table Of Contents For This Page
To make sure you can find the information you want quickly,
we have prepared this content directory that will jump to the corresponding location when you click on it.
General
Application
For Bird & Insect Control Netting
Bird & Pest Control Netting has the following wide range of applications , Inquiry us for more solution.
General
Hot Selling
Products
Hail Netting to Protect Your Fruit Orchard
Find the rights Hail Netting below for your Orchard; All of our products are provided with up to 5 years warranty.
Mesh Size: 1.42×1.42mm
Shade Ratios: 16-18%
Air Transmission: 75%
Mesh Size: 0.77×0.77mm
Shade Ratios: 18-20%
Air Transmission: 60%
Mesh Size: 0.60×0.60mm
Shade Ratios: 20-22%
Air Transmission: 50%
Mesh Size: 0.77×0.27mm
Shade Ratios: 25-29%
Air Transmission: 20%
| | | | | | | | | |
| --- | --- | --- | --- | --- | --- | --- | --- | --- |
| Prooduct no. | Mesh                   cm | Item no. | Weight      gsm | Mesh size             mm | Shade percentage | Air Transmission | UV  Resistance  | Ideal for  |
| Standard | 6/6 | 17Mesh | 60 | 1.42×1.42 | 16-18% | 75% | 5 years | wasps, flies, and moths |
| Medium | 10/10 | 25Mesh | 70 | 0.77×0.77 | 18-20% | 60% | 5 years | fruit fly |
| Fine A | 12.5/12.5 | 32Mesh | 80 | 0.60×0.60 | 20-22% | 50% | 5 years | fruit fly,  leaf miner |
| Fine B | 16/10 | 40Mesh | 110 | 0.77×0.4 | 20-23% | 35% | 5 years | whiteflies,thrips |
| Extra Fine | 20/10 | 50Mesh | 130 | 0.77×0.27 | 25-29% | 20% | 5 years | lice, thrips, whiteflies, and leaf miners |
EyouAgro is an Insect Netting Manufacturer in China.
We can produce Insect Netting for crops, vegetables, and so on.
No matter if you are looking for a wholesale supplier or if you need a custom-made insect netting , we can all help.
Send inquiry to get an instant quote now!
How to
Choose
Insect Netting Supplies
The Smart Way To Protect Your Greenhouse from Adverse Weather.
Select Insect Net by Pest
Insect
17mesh
25mesh
32mesh
50mesh
Standard
Medium
Fine
Extra fine
Aphid
–
–
✓
✓
Cabbage Root Fly
✓
✓
✓
✓
Cabbage White Butterfly
✓
✓
✓
✓
Carrot Root Fly
✓
✓
✓
✓
Flea Beetle
–
✓
✓
✓
Leaf Miner
–
✓
✓
✓
Organics
–
✓
✓
✓
Swedge Midge
–
✓
✓
✓
Turnip Root Fly
✓
✓
✓
✓
White Fly
–
–
✓
✓
Spotted Winged Drosophila
–
✓
✓
✓
Select Insect Net by Crop Type
Crop
17Mesh
25Mesh
32Mesh
50Mesh
Standard
Medium
Fine
Extra fine
Swede/Turnip/Cabbage 
✓
✓
✓
✓
Cauliflower/Carrots
✓
✓
✓
✓
Courgettes/Beetroot
✓
✓
✓
✓
Broccoli
–
–
✓
✓
Potatoes
–
–
✓
✓
Leeks
–
✓
✓
✓
Onions
–
✓
✓
✓
Salad leaves
–
✓
✓
✓
Herbs
–
✓
✓
✓
Spinach & Chard
–
✓
✓
✓
Strawberries/ Raspberries/ Blueberries/
✓
✓
✓
✓
Gooseberry/ Grapes
✓
✓
✓
✓
Try this netting calculator to get an approximate purchase requirements and send an enquiry to me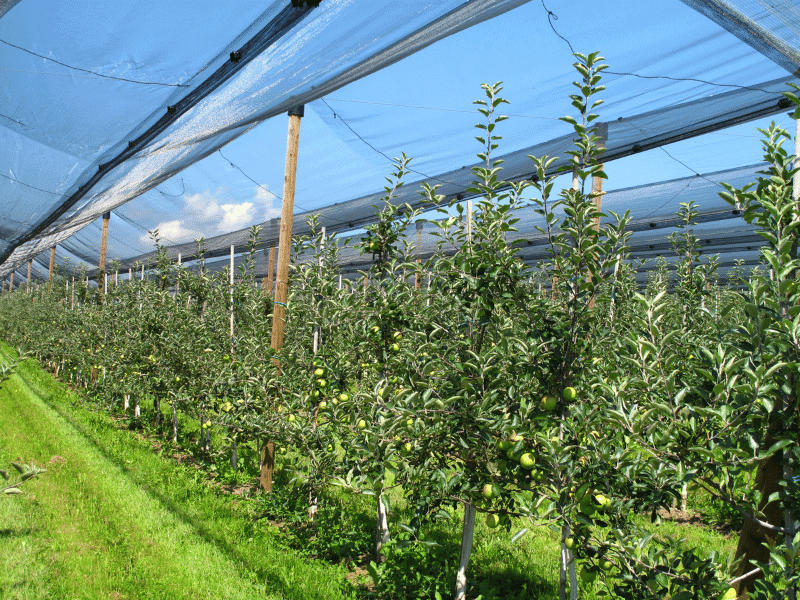 Our Netting Calculator will give you a custom agricultural netting quantity based on the Length & Width & Row of your orchard or vineyard netting project.
I purchased Bird Netting and Hail Netting from EyouAgro so many times, it is very fast shipping, good and accurate product, got them fast and as usual very good condition, all work great, all is great and love these goods. Obviously this is a five star of quality suppliers, we will certainly buy again EyouAgro products, and I wish you the business is thriving!
We are Italy professional raschel netting manufacturer. Few days ago I did an accelerated aging test on plant where I mounted your nettings. The test was very positive and products had worked very well. It is very happy to find EyouAgro company, they give us a very good reputation in our place, and let our customers to enjoy the cheap price with very high quality.
My name is Ms. Svetlana Gogu from Chilean Company. My company mainly operates on Agro Covers. Eyouagro with good quality, fine workmanship and timely reply, and important, cooperate with the Eyouagro without trouble, the sales person always can understand my emails meaning. This feeling makes me good, and comfortable. Thanks.
We received all set of documents a few minutes ago, everything is going smoothly here and hopeful we can have the goods soon at our warehouse. Your service is fantastic as I just place the order on January and the goods arrived so quickly, and you have fixed everything for me!
I like buying from Chinese company like yours.
A Brief
Self-Nomination​,
Why Choose EyouAgro?
Founded in 1996, EyouAgro uses Knitted and Woven technology to design, develop and manufacture Agriculture Protection Textiles.
EyouAgro offers clients a wide choice of standard and customized Polymer Netting for their farm or orchard needs.
Reliable Insect Netting Manufacturer in China
Keeping the plants protected from adverse weather conditions!
EyouAgro has a significant Insect Barrier Netting manufacturing capability.
Certified by ISO9001, REACH, Rohs, SGS certification.
Automated Raschel production line, creating over 10,000sqm per day.
Manufacture directly, large scale production and Well trained workers.
Whether you need insect barrier netting or need to custom any netting products.
EyouAgro always satisfies your needs.
Frequently
Asked
Questions
If your question is not listed, please email us right now.
Why you should use Insect Netting?
To produce high quality, safe and healthy fruits and vegetables. Byusing insect exclusion netting you protect your crops from damage caused by various insects. This helps you in getting higher yield and healthier crops.
How effective is insect netting in protecting plants?
Fruit and vegetable plants are susceptible to attacks by insects like fruit flies, drosophila, wasps, moths, and others. Insect netting provides a physical barrier that prevents the insects from coming in contact with the crops. Thus insect exclusion netting is extremely effective, as proven by various studies.
What is the impact of insect netting on the yield?
Insect infestation can significantly lower your crop yield. Insect infestations can also lead to complete crop failure. This is a serious economic and financial concern. Insect netting keeps your crops healthy and ensures that you don't lose any part of your produce to diseases.
How What is the impact of Insect Netting on Crop Quality
Insect netting has a very positive and beneficial effect on crop yield.
Insects can cause severe damage to your crops. Some insects are carriers of viruses that cause diseases in plants, which can destroy your crops. Some insects like thrips destroy leaves and reduce the plant's ability to prepare food for itself. This results lower quality of seeds and fruits, which fetch lower pricein the market.
Use of insect netting prevents all the above damage and keeps your crop healthy. In fact, study has shown that use of insect exclusion netting actually enhance fruit development and quality.
When should you install insect netting?
The best time to install insect netting is during the initial growth phase of the plant. Insect exclusion netting will not help once an infestation has occurred. Hence the installation of insect netting has to be well in advance.
When should you start planning for Insect Netting for your Farm?
Based on the growing cycle of your crop, it is best to plan for your insect exclusion netting installation at least 6-8 months in advance.
Is Trimming of the trees Essential toInstall Insect Netting?
Trimming of the trees is a good idea to ensure ease of installing insect exclusion netting. Pruning your trees to an optimal height is good for your crop as it removes undue pressure on the lower branches and allows for maximum light to reach the lower branches.
Is a Machine Required for Installing Insect Netting?
Insect netting can be installed manually, particularly if you are using a fine mesh light weight netting.For heavier insect exclusion netting intended to cover rows of trees, a net installing machine is recommended for greater efficiency.
Can you keep the Insect Netting installed throughout the year?
It is not recommended to keep insect netting installed all through theyear. This may hinder the growth of the branches and in some cases, the branches may shoot through the netting, causing damage.
Insect netting should be installed in the early growth phase of the plants to arrest any chances of insect attacks. The insect exclusion netting should be removed after the harvest.
Still Have a Question We Haven't Answered?
If there are no informations you want in the FAQ pages? It doesn't matter.
Click the
"

Submit Your Question

"
and fill in your questions, we will reply you within 2 hours.
If your question adopted by EyouAgro and showing in the FAQ Pages.
You will get 3% discount or 100 USD coupon in your first order, your email address will be the only evidence.
More
Related
Hail Netting Supplies
The Smart Way To Protect Your Orchard from Adverse Weather.
The Plant insect netting at Eyouagro Produce is constructed from the finest quality materials for maximum durability.
Plant insect netting protects your plants against insects such as whitefly, aphids and leafhoppers by trapping them within its mesh weave before they can lay their eggs on your valuable crops.
This premium Plant insect netting will help you increase production while reducing damage to your crops!
Eyouagro Produce Bird and insect netting is a company that aims to provide the best, most environmentally friendly bird and insect netting for you. Bird netting is an essential tool in any garden or farm, as it helps keep birds away from crops, preventing damage to your harvest. It is a highly flexible, durable mesh that can be used to keep birds and insects away from crops.
The insect barrier row cover made by Eyouagro is a great choice for farmers. It protects crops from insect damage and helps prevent insect-borne diseases. This insect barrier row cover also offers protection against hail, frost, wind, dust storms, snow and rain. It's the perfect all-weather farm wrap!
Extra Fine Insect Barrier Netting
Eyouagro is a company that specializes in producing premium extra fine insect barrier netting. We use the extra fine mesh size to keep out pests like mosquitoes and other bugs from your home or business. This extra protection will help you sleep better at night, knowing that you are protected against insects!
Insect Netting: The Definitive Guide 2021
When your business is related to farming and produce, the crop yield is crucial to your profitability. You have to go all out to ensure the good health of your plants so that you get the best yield. Keeping your crops free from insect infestations and diseases caused by pests is very crucial.
Don't worry any more.Look no further than EyouAgro insect exclusion netting to give the perfect solution to this problem.
Read on further to know more details about insect netting and how insect netting can help your business.
What is Insect Netting?
Insect Netting is fine mesh, polypropylene netting material composed of woven taffetas monofilament. The insect netting protects your crops from various disease-causing insects.
Why Insect Netting is Important?
The use of insect exclusion netting is a great alternative to the use of harmful chemical-based pesticides for your plants.
Insect netting provides:
· A physical barrier between the pests and your crops, and is therefore extremely effective.
· A completely safe way to keep your crops away from pests as the insect netting material is made from non-toxic, nonreactive polypropylene material.
Different Types of InsectNetting
Monofilament Polypropylene Insect Netting
Woven taffeta monofilament in the polypropylene base material provides great tensile strength to the insect netting. This ensures that the insect netting is not damaged by the insects or bids and other pests who may try to tear the netting.
UV Treated Insect Netting
The insect netting material undergoes UV treatment, which adds long life. The long-lasting (up to 5years and more) insect netting can be used season after season, providing you more value for money.
Pest Specific Insect Netting
The mesh size on the insect netting determines the type of insects or pests that are excluded. Eyouagro is your one-stop for a varied range of insect netting mesh sizes.
A 6×6 cm mesh size will keep out wasps, flies, and moths. If you are looking for perfection against larger insects like lice, leaf miners, and whiteflies, a 20×10 cm mesh size insect exclusion netting is the right choice.
White Insect Netting
White color insect netting is the best choice, as it allows maximum passage of light to your crops.
Greenhouse Insect Netting
Insect netting specifically for your greenhouse. The insect exclusion netting optimally manages the microclimate within your greenhouse, while effectively keeping the pests away.
Benefits of Installing Insect Netting
1) Insect Netting is Insurance for your Business
Insect infestation can lead to complete crop failure. Certain insects like thrips bore into the leaves, decreasing their chlorophyll content. This compromises the plant's ability to produce healthy fruits and seeds. Insect netting to protect your plants is as good as insurance for your business.
EyouAgro insect is trusted by customers worldwide to keep their crops and their business safe.
2) Helps you Produce Higher Quality of Healthier Yield
By using insect exclusion netting, you can completely avoid the use of harmful pesticides and chemicals. Several fruit and vegetable wholesalers and retailers are rejecting pesticide-treated produce on account of safety concerns. Customers also prefer non- pesticide-treated produce. With the use of insect exclusion netting, you will be able to meet these demands.
3) Insect Netting Provides Long Term Results
EyouAgro UV treated insect netting lasts for 5years and more, giving your long-term benefits for a one-time investment. The insect netting is flexible in use. You can use it for your regular trees and plants as well as greenhouse and tunnels. With multiple usage options, insect exclusion netting will offer great value for money.
Where is Insect Netting Used?
Insect netting has universal applications in practically any and every farm or orchard irrespective of the crops you are growing.
Any crop is at risk of insect damage. By using insect exclusion netting early, it is possible to arrest the unfortunate development.
Insect exclusion netting can be used on single trees and plants as well as rows of trees.
Your greenhouse and tunnel gardens can also be kept safe with insect netting.
3 Steps to Buy Insect Netting
Step1- Choosing Local Insect Netting
Check local stores that sell hardware. Even supermarkets that stock garden supplies may sell insect exclusion netting. Check your local business directory if there are any wholesalers or distributors of insect netting and other protective plant netting fabric in your area.
Step 2 – Explore Insect Netting Online
EyouAgro offers you multiple customized options for insect netting. Our low costs will offer you the best value for money. We offer the highest level of customer service and after-sales service. We are here to help before and after you place your order.
Step 3 -Evaluate your Insect Netting Requirement
Depending on your local area, there may be specific pests that you need protection against. The use of insect netting also depends on local climatic conditions. EyouAgro can offer you customized insect exclusion netting suited to your specific harsh conditions.
Schedule a call with our experts so that we can offer you the best advice regarding your insect exclusion netting requirements.
How to Install InsectNetting
Install Insect Netting directly Over the Plant
Drape the insect netting directly over the plants. In the case of smaller plants and shrubs, this is an easy process. For taller trees, use a pipe or pole to push up the insect exclusion netting over the tree.
Then pull the netting down equally on all sides. Secure into the soil with hooks.
Use Hoops to Install Insect Netting
Measure the length of the area you wish to cover with the insect netting. Mark spots at equal intervals along the entire length. Place garden hoops at these intervals.
Wrap the insect exclusion netting over the hoop slightly. Knot the overhang on the sides and firmly place it on the ground, Drive the knotted insect netting well into the soil using garden hooks.
All insect netting installation accessories are available at EyouAgro.
Use of Frames to Install Insect Netting
Create a frame around the trees using PVC pipes. Hoist the insect netting over the frame.
The advantage of using frames is that in this case, the insect netting does not come directly in contact with your plants.
Tips for Installing InsectNetting
1· Install the insect netting just before the growth phase of the plant. This helps prevent insect infestation. Once the damage has set in, it is difficult to control it or even reverse it.
2· While installing the insect exclusion netting, make sure there are no tears or holes. It would defeat the very purpose.
3· Use of insect netting in greenhouses and tunnels helps increase the temperature and optimizes plant growth.
Conclusion
Your crops are your pride and joy and your business You are committed to providing high-quality, safe products to your customers. What better way to maintain that promise than by using insect exclusion netting to protect your crops?
At EyouAgro, we are driven by our vision of providing healthier and safer food for mankind with our non-toxic polymer netting fabric.
By using our insect netting, citrus netting, or any fruit tree netting, you don't have to use harmful chemical-based insecticides to protect your crops.
This results in healthier fruits and vegetables for you, for your customers, and for the entire planet.  Call us now and let us provide healthy food to the world together as partners.
Hey, I'm Kevin Lyu, the founder of Eyouagro.com. Family-run business.
An expert of agriculture protection textile specialist .
In the past 24 years, we have helped 55 countries and 150+ Clients like farms, orchards , vineyards to protect their plants. The purpose of this article is to share with the knowledge related to agriculture growing protection for making the plant healthier and stronger.
EYOUAGRO Repsects Quality Standards