Agricultural Windbreak Netting
Protect your crops from harsh winds and other weather conditions.
Agriculture Windbreak Netting
The HAIL-PROOF Netting Solution For High-Yield Orchard!
EEyouagro offers high-quality, 100% UV-resistant polyethylene wind block netting that will last for many years without tearing or breaking down.
Used as protection against crop damage or injury to plants due to hazardous weather and harsh winds.
The simple way to do this without the expense of purchasing or building an expensive structure.
Made of durable polypropylene that won't rust, rot or deteriorate quickly in adverse weather conditions.
Table Of Contents For This Page
To make sure you can find the information you want quickly,
we have prepared this content directory that will jump to the corresponding location when you click on it.
General
Application
For Windbreak Netting
Agriculture Windbreak Netting has the following wide range of applications , Inquiry us for more solution.
General
Hot Selling
Products
Windbreak Netting to Protect Your Orchard
Find the rights WindScreen below for your farm; All of our products are provided with up to 5 years warranty.
35% WindScreen is one of the screens protecting the growth of plants or crops from been destroyed by winds. This wind net has been widely used in the agricultural industry.
Weight: 110grm
Wind Reduction: 35%
Dimensions: 1,00m x 100m  | 2,00m x 100m | 3,00m x 100m | 4,00m x 100m | 6,00m x 100m
UV Warranty: 5 Years Pro-Rate UV Stability
50% WindScreen is a major component of successful agricultural and commercial operations throughout the world. They can help control erosion, blowing snow, enhance habitat diversity, control air blown litter and dust, reduce evaporation, etc
Weight: 135grm
Wind Reduction: 50%
Dimensions: 1,50m x 50m | 2,00m x 50m | 3,00m x 50m | 3,00m x 100m | 4,00m x 100m
UV Warranty: 5 Years Pro-Rate UV Stability
70% WindScreen is made with windscreen fabric weave which we all know to be a high-density material with high water and wind resistance ability. This mesh has up to 70% wind/visibility blockage, and also adequately prevents UV penetrations.
Weight: 180grm
Wind Reduction: 70%
Dimensions: 2,00m x 50m | 3,00m x 100m | 4,00m x 100m
UV Warranty: 5 Years Pro-Rate UV Stability
EyouAgro is a Windbreak Netting Manufacturer in China.
We can produce windscreen netting, wind block netting, wind protection netting for your orchard.
No matter if you are looking for a wholesale supplier or if you need a custom-made windbreak fabric , we can all help.
Send inquiry to get an instant quote now!
More Netting Fasteners to Support Your Orchards
With the help of unique Plastic Accessories;
The Netting could be easily installed, fastened, and collected.
Try this netting calculator to get an approximate purchase requirements and send an enquiry to me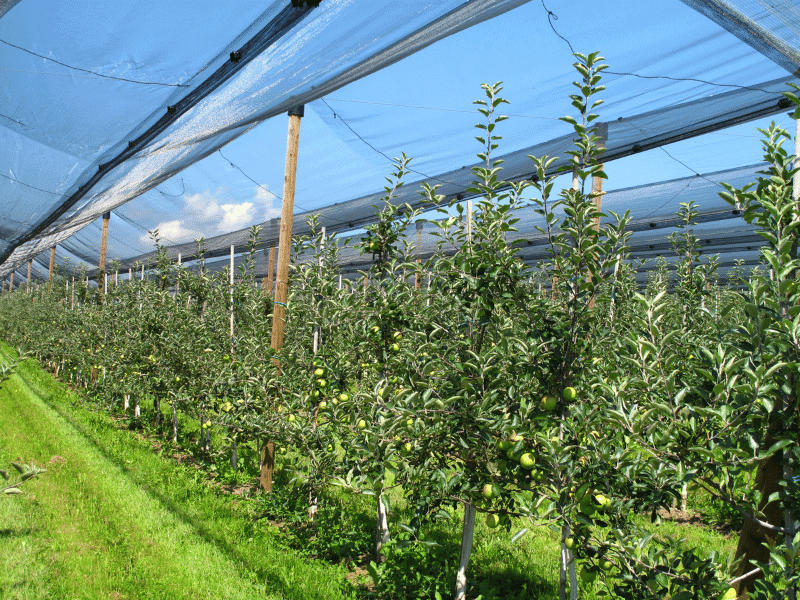 Our Netting Calculator will give you a custom agricultural netting quantity based on the Length & Width & Row of your orchard or vineyard netting project.
I purchased Bird Netting and Hail Netting from EyouAgro so many times, it is very fast shipping, good and accurate product, got them fast and as usual very good condition, all work great, all is great and love these goods. Obviously this is a five star of quality suppliers, we will certainly buy again EyouAgro products, and I wish you the business is thriving!
We are Italy professional raschel netting manufacturer. Few days ago I did an accelerated aging test on plant where I mounted your nettings. The test was very positive and products had worked very well. It is very happy to find EyouAgro company, they give us a very good reputation in our place, and let our customers to enjoy the cheap price with very high quality.
My name is Ms. Svetlana Gogu from Chilean Company. My company mainly operates on Agro Covers. Eyouagro with good quality, fine workmanship and timely reply, and important, cooperate with the Eyouagro without trouble, the sales person always can understand my emails meaning. This feeling makes me good, and comfortable. Thanks.
We received all set of documents a few minutes ago, everything is going smoothly here and hopeful we can have the goods soon at our warehouse. Your service is fantastic as I just place the order on January and the goods arrived so quickly, and you have fixed everything for me!
I like buying from Chinese company like yours.
A Brief
Self-Nomination​,
Why Choose EyouAgro?
Founded in 1996, EyouAgro uses Knitted and Woven technology to design, develop and manufacture Agriculture Protection Textiles.
EyouAgro offers clients a wide choice of standard and customized Polymer Netting for their farm or orchard needs.
Agriculture Windbreak Netting Supplier in China
Keeping the plants protected from adverse weather conditions!
EyouAgro has a significant wind block netting manufacturing capability.
Certified by ISO9001, REACH, Rohs, SGS certification.
Automated Raschel production line, create over 10,000sqm per day.
Manufacture directly, large scale production and Well trained workers.
Whether you need windbreak netting or need to custom any netting products.
EyouAgro always satisfies your needs.
How do secure windbreaks netting attach at the top?
Eyouagro Windbreaks netting is a great way to prevent Wind and snow from destroying your crops. Wind blocks typically attach at the top with either tension ties or metal stakes, but Secure Windbreaks connect differently. The netting is secured on three sides with 4" wide Velcro straps that allow you to wrap them around any object.
Can air still get through Windbreaks Netting?
Windbreaks are typically used to protect crops and other sensitive vegetation from Wind. But Eyouagro's wind block netting is also great for ventilation. Wind can blow through farms or greenhouses. So, the addition of an exterior windbreak will help keep that air-conditioned farm cool by keeping out hot breezes during the summer.
Windbreaks can be either solid or netting, and if you're interested in knowing the details option, please contact our experts.
Windbreak Netting Made of?
Windbreak netting is typically made of high-quality polypropylene or nylon materials with UV inhibitors to inhibit deterioration due to sunlight exposure. Windbreaks can be woven into fabric mesh screens, rolled onto a spool for easy transport and storage, or mounted on a base for use as an outdoor windbreak.
How do Secure Windbreaks fit next to each other?
Secure Windbreaks attach at the top with a grommet and cord. Using this system, wind blocks can be attached next to each other without worrying about them coming loose. Grommets are placed every two feet on our Secure Windbreak netting so that it's easy for both people and animals alike to enter through the openings.
Grommets also allow you to adjust the height of your windbreak to make it as short or long as you need. Windbreaks are easy and quick to install, and with our custom grommet spacing system, they can be installed in just minutes.
What kind of angle iron should I use for Windbreak Netting?
Agricultural Windbreak netting is typically installed with angle iron, which can be either galvanized steel or aluminum.
Most Windbreak Netting is designed to be installed with ¾" or ½ "angle iron. Windbreak netting can be installed with either galvanized steel or aluminum angle iron easily.
Can Secure Windbreaks be cut to give a better fit?
Windbreak netting can be cut to fit the size of your planting bed, and it comes in different widths. The size of your planting bed will determine how much wind protection you need to protect your crops.
The Wind blowing directly at one side of a planting bed will be compressed and intensify, so a long windbreak is necessary to protect the whole field.
Windbreaks can be cut to any size you need for them to fit your specific needs, whether it's one small row or an entire farm.
How Windbreaks Netting Protect Crops?
Crops are vulnerable to Wind. Wind can cause significant crop damage, like exposing plants to frost or drying out the soil too much. Windbreaks, trees, and bushes planted at the edge of a field (or along a row) create an invisible barrier that protects crops from damaging winds. Windbreaks also protect livestock and wildlife habitats near croplands. Windbreak netting is used to protect crops from Wind.
Windbreaks work best to protect areas of small acreages, like gardens or livestock pastures with a fragile ecosystem. They can also be used on larger farms as an alternative to wind machines. Windbreaks, which can be as simple or elaborate as their owners would like them to be, take up little space and provide a natural barrier against damaging winds.
Do Secure Windbreaks come with instructions?
Yes, the Windbreak Netting Instructions are included in every package of windbreak netting. The Windbreak nets need to be installed by spreading them out and tying them down along a predetermined line or perimeters set for your specific location.
Where can use Agricultural windbreak netting?
Eyouagro's agricultural windbreak netting can be used in greenhouses, plant nurseries, fruit farms, vegetable gardens, and more!
Still Have a Question We Haven't Answered?
If there is no information you want on the FAQ pages? It doesn't matter.
Click the
"

Submit Your Question

"
and fill in your questions, we will reply to you within 2 hours.
If your question is adopted by EyouAgro and showing in the FAQ Pages.
You will get a 3% discount or a 100 USD coupon in your first order, your email address will be the only evidence.
More
Related
Windbreak Netting Supplies
The Smart Way To Protect Your Orchard from Adverse Weather.
Eyouagro garden windbreak netting is great for gardeners. It provides an excellent garden windbreak, and also keeps the garden neat and tidy. Eyouagro produce garden windbreak netting in a range of sizes to suit all gardens, from huge allotments to small backyards.
The Eyouagro windbreak cladding mesh is wind-resistant and durable. The windbreak cladding mesh can be used for many purposes such as a windscreen to protect the crops from strong wind, and it also has some other benefits for the environment. For example, if you install this windbreak cladding mesh in your greenhouse, then you could help save energy by up to 20%.
The Eyouagro windbreak shade netting is a temporary wind barrier that can be installed on the windward side of crops. It not only protects plants from wind damage, but also provides frost protection and heat insulation.
Agricultural Windbreak Netting: The Comprehensive Guide (2021)
Eyouagro Agricultural Windbreak netting is an effective way of protecting crops from Wind. The material stretches over the plants in rows that are usually spaced about five feet apart. Windbreak netting provides a natural wind barrier for crops and prevents the plants from blowing over. Windbreaks also protect livestock habitats near croplands.
What is Agricultural Windbreak Netting?
Agricultural Windbreak Netting is a lightweight wind block netting that can protect crops from the effects of winding, hail, and frost. Windbreaks are an easy way for farmers to reduce soil erosion without doing more costly work like tilling or building berms.
EyouAgro Wind blocks netting also saves energy. Because it provides shade during hot summer days. Windbreaks are made of a lightweight, flexible material that is easy to install around the perimeter of garden beds or fields for protection from Wind.
What are the different types of Windbreak Netting?
a. Agricultural windbreak netting:
Windbreak netting is used to keep the wind from blowing across your crops and causing damage. It's typically constructed with either posts or trees as a backbone, then covered by some type of material that will reflect the Wind out.
Wooded areas can be used to block the wind from blowing across a field. Windbreak netting is often made of heavy material, such as cedar or fiberglass panels which will protect against strong winds and adjust in height depending on your needs.
b. Wind block netting:
Wind block nets are typically installed around areas that require wind protection. Wind block nets are often used for golf course tee boxes, windbreaks around crops, and across roadsides to prevent erosion and keep out weeds. Wind blocks can be made of wood or metal, including posts with netting installed on top with a PVC skirt attached at the bottom to protect against strong winds blowing underneath it.
Benefits of Installing windbreak Netting?
a) Helps protect plants from the elements. Windbreaks reduce wind speeds and cool temperatures for your crops, which helps to protect them from weeds.
b) Keeps animals out of fields and away from plants.
c) Prevents soil erosion and water runoff. Windbreaks act as natural hedges that prevent wind from blowing away loose soil. And taking it with it to other places on your property where it might do more harm.
d) Help to prevent water runoff, which can lead to erosion, from disturbing the soil in your fields.
e) Windbreak Netting is a cost-effective way of doing it all!
Where is agricultural Windbreak Netting Used?
Agricultural Windbreak Netting is used to protect crops against wind and blowing snow. Windbreaks are often utilized when weather conditions make it difficult for plants to grow correctly, such as during a drought or severe cold spell in winter.
It's used on farms that need protection from wind, snow, and cold, as well as other vegetation like trees and shrubs.
Application area of Wind Block Netting:
The application area is the size of your property that you are going to put Windbreak Netting on. This measurement typically needs to be relayed in length; however, it varies depending on how wide Windbreak Netting should cover your property.
Windbreaks come with various widths and lengths, so make sure you choose one that best fits what you need. Windbreak Netting is usually put up on the edge of property lines to provide a barrier from the wind and other elements that might affect your home or business.
8 x Steps on How to install Windbreaks Netting for Your Farm?
Step 01: Purchase Eyouagro Windbreaks netting.
Step 02: Decide where you want to install it and measure how long it will need to be.
Step 03: Install posts at each end of the area you plan to install netting in (every 8 feet). The bar should preferably be set in concrete for support.
Step 04: Attach one end of the netting over the top of both posts using screws and nails.
Step 05: Stretch out the other side of the net as far as possible and attach with screws into posts every 8 feet until finished.
When to install the Wind block Netting to get the timing right?
When should wind block Netting be installed? Wind block netting can be installed at any time. However, it is most commonly used when the crop has been harvested. The wind blocks are then left up to keep the integrity of your fence intact and prevent animals from getting into or under the fence line.
7X Tips for Agricultural Windbreak Netting
Dos
Choose the right kind of agricultural windbreak netting; Eyouagro Agricultural windbreak netting is the best for what you are wanted using it for.
Determine how tall you need your net before purchasing
Make sure to install Agricultural Netting before planting or seeding. It is not a practical option once the plants are established.
Install at the height of 33 inches from ground level and spaced every 12 to 15 feet apart for maximum effectiveness.
Don'ts
Use excessive stakes for anchoring the Agricultural Windbreak Netting
Cut corners during installation by using inferior materials or doing a sloppy job, as this will affect the overall effectiveness of your Agricultural Windbreak Netting.
Use Agricultural windbreak netting to act as a barrier to prevent deer from entering your property.
How to buy agricultural Windbreak Netting?
Eyouagro offers a wide range of agricultural Windbreak Netting to protect crops from the Wind and elements. We offer UV agricultural Windbreak Netting worldwide at competitive prices, ensuring that you get unmatched customer service every step of the way. We provide high-quality products with fast delivery time at a time.
Conclusion:
The Eyouagro's Agricultural Windbreak Netting is an advanced product for the Agricultural and Agribusiness industries. If you have any questions about our agricultural Windbreak Netting, don't hesitate to contact us today. We are available 24 hours a day, seven days a week, for your convenience.
Hey, I'm Kevin Lyu, the founder of Eyouagro.com. Family-run business.
An expert of agriculture protection textile specialist .
In the past 24 years, we have helped 55 countries and 150+ Clients like farms, orchards , vineyards to protect their plants. The purpose of this article is to share with the knowledge related to agriculture growing protection for making the plant healthier and stronger.
EYOUAGRO Repsects Quality Standards