Provides you with a highly innovative technology that ensures unmatched protection and overall profitability for raspberry farmers
Commercial Raspberry Netting
The Bird-PROOF Netting Solution For High-Yield Orchard!
EyouAgro Raspberry Netting is produced using polypropylene – an environmentally friendly material that is suitable for horticultural farming. Raspberry netting provides a protective shield by keeping the ripening fruit out of reach from hungry birds, pests, and insects.
Durable and lightweight
Used to control the damage caused by birds, insects, and pests.
Prevent bees and other insects from pollinating the plants
Rot-free and UV-friendly raspberry tree protection netting
Longevity – An impressive useful life of 5-8 years
Frustration-free installation – easy to install
Table Of Contents For This Page
To make sure you can find the information you want quickly,
we have prepared this content directory that will jump to the corresponding location when you click on it.
General
Application
For Hail Netting
Hail Guard Netting has the following wide range of applications , Inquiry us for more solution.
General
Hot Selling
Products
Bird Netting to Protect Your Raspberry Orchard
Find the rights Raspberry Netting below for your Orchard; All of our products are provided with up to 5 years warranty.
Raschel Triangle Mesh 60 is cost-effective design. It is durable and suitable for Fruit Tree Hail Protection.  
60g/m2 · 8.5×2.5/2mm
Square Mesh 50 is a special and innovative design. It is ideal canpoy for Bird , Bee Protection Shade Protection
50g/m2 · 4.2×2.0mm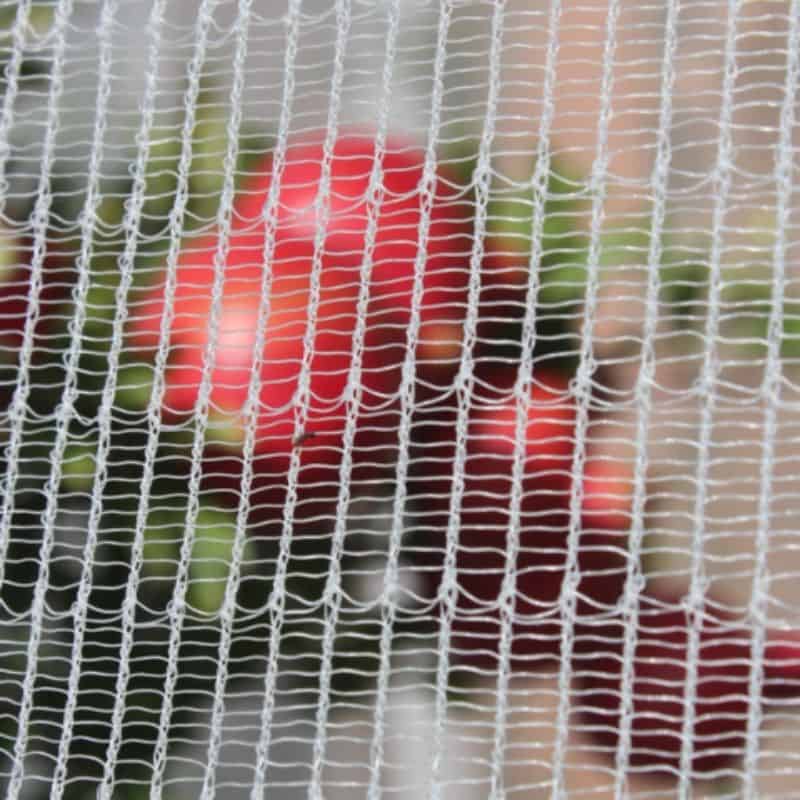 Raschel Square Mesh Plus 60 is the multipurpose and light-weight. Hail & Wasp Protection
Special strong selvage. 
60g/m2 · 4.2×2.0mm
Diamond 35 is a Heavy duty innovative design. Strong and Durable twist mesh, ideal for bird protection
35g/m2 · 15x15mm
| | | | | | | | |
| --- | --- | --- | --- | --- | --- | --- | --- |
| ProductNo. | Type | Mesh Size[mm] | Weight[g/m2] | Shading[%] |  Width[m] | UV Warranty                | Ideal for |
| RM-60 | Triangle | 8.5×2.5/2 | 60 | 18 | 2  – 4 – 4,5 – 5 – 6 | 5 Year | Cost-Effective | Fruit Tree Hail Protection |
| SM-50 | Square | 4.2×2 | 60 | 15 | 2  – 4 – 4,5 – 5 – 6 | 3 Year | Light weight | Low Strength  | Bee & Wasp Protection |
| SMP-60 | Square | 4.2×2.0 | 90 | 25 | 2  – 4 – 4,5 – 5 – 6 | 5 Year | Multipurpose,Durable | Bird , Bee Protection Shade Protection | Canopy |
| DM-35 | Diamond | 8.5×2.8 | 55 | 12 | 4 -8 -10 -12 -18 | 5 Year | High Strength | Durable | Bird Netting System | Low ourput production ,Long delivery time |
EyouAgro is a Raspberry Netting Manufacturer in China.
We can produce Raspberry Netting for anti bird, anti bee, anti pest, and so on.
No matter if you are looking for a wholesale supplier or if you need a custom-made Raspberry netting , we can all help.
Send inquiry to get an instant quote now!
More Netting Fasteners to Support Your Orchards
With the help of unique Plastic Accessories;
The Netting could be easily installed, fastened, and collected.
Try this netting calculator to get an approximate purchase requirements and send an enquiry to me
Our Netting Calculator will give you a custom agricultural netting quantity based on the Length & Width & Row of your orchard or vineyard netting project.
I purchased Bird Netting and Hail Netting from EyouAgro so many times, it is very fast shipping, good and accurate product, got them fast and as usual very good condition, all work great, all is great and love these goods. Obviously this is a five star of quality suppliers, we will certainly buy again EyouAgro products, and I wish you the business is thriving!
We are Italy professional raschel netting manufacturer. Few days ago I did an accelerated aging test on plant where I mounted your nettings. The test was very positive and products had worked very well. It is very happy to find EyouAgro company, they give us a very good reputation in our place, and let our customers to enjoy the cheap price with very high quality.
My name is Ms. Svetlana Gogu from Chilean Company. My company mainly operates on Agro Covers. Eyouagro with good quality, fine workmanship and timely reply, and important, cooperate with the Eyouagro without trouble, the sales person always can understand my emails meaning. This feeling makes me good, and comfortable. Thanks.
We received all set of documents a few minutes ago, everything is going smoothly here and hopeful we can have the goods soon at our warehouse. Your service is fantastic as I just place the order on January and the goods arrived so quickly, and you have fixed everything for me!
I like buying from Chinese company like yours.
A Brief
Self-Nomination​,
Why Choose EyouAgro?
Founded in 1996, EyouAgro uses Knitted and Woven technology to design, develop and manufacture Agriculture Protection Textiles.
EyouAgro offers clients a wide choice of standard and customized Polymer Netting for their farm or orchard needs.
Raspberry Netting Manufacturer in China
Keeping the plants protected from adverse weather conditions!
EyouAgro has a significant bird proof netting manufacturing capability.
Certified by ISO9001, REACH, Rohs, SGS certification.
Automated Raschel production line, create over 10,000sqm per day.
Manufacture directly, large scale production and Well trained workers.
Whether you need raspberry netting or need to custom any netting products.
EyouAgro always satisfies your needs.
Do you need netting over raspberries?
Raspberry bushes are an open banquet for birds, insects, and other pets, as they offer sweet fruit in the open.
Raspberry growers often lose a large amount of their harvest mainly because birds and pests consume the fruit before it is ready for harvesting.
Thankfully, encasing your Raspberry bushes in an affordable netting system prevents loss of fruit. Your raspberries will ripen safely without any damages with the right raspberry netting.
Does netting protect plants from frost?
While fruit netting is effective for protecting plants from birds, it also makes for an efficient thermal coat, which acts as a shield to prevent frost damage.
Even though the netting allows even water distribution, it is also efficient for keeping pests away from the fruits.
Consequently, you may use fruit netting as protection against frosting and bird damage.
How far apart do plants need to be to avoid cross pollination?
To avoid the occurrence of cross-pollination, plant different fruit varieties 91 meters apart. Take note that this isn't possible in a typical home garden.
However, raspberries and strawberries can be planted in the same garden.
You must plan sufficiently and plant these together.
Over time, you will quickly discover that raspberries and strawberries grow well together.
 It is also worth noting that raspberry netting is a technique that should additionally be used to prevent cross-pollination.
How much bird netting do I need?
To protect your plants with raspberry netting, calculating the size of netting you require saves you valuable time, money, and frustration.
To determine the amount of raspberry bird netting you require, you can simply add the width and height measurements, then multiply this figure by 2.
The number is the square piece of one side of the netting you will need in terms of length on one side.
How do you wrap fruit trees with netting?
When you choose to install tree netting systems, you can choose either of two options. The first method involves using frames to hold the nets securely away from the tree branches while the second method involves draping the netting directly over your raspberry trees.
If you need to prevent birds from pecking the ripe fruits that are out of the tree branches, then installing frames for the netting works as opposed to draping over the canopies.
How do you increase the yield of raspberries?
You can manage the ever-bearing raspberry bushes to produce one large harvest every year by making sure the plants are pruned in late winter before new growth begins and the ground is still frozen.
Whether you are pruning manually by hand, with a rotary mower, or your preferred mechanical machinery, eradicate all growth above ground and only leave 1-2 inches of stub on every cane.
For an increased yield, install raspberry netting when the fruits are about to start ripening.
How much does it cost to install bird netting?
Raspberry bird netting protection is quite affordable.
However, you should note that the cost of the installation will largely depend on the expanse of your bushes or the size of your orchard.
The installation rates start from $2 per square foot. Request a quote today by visiting EYOUAGRO.
How long does bird netting last?
The high-quality raspberry netting that we supply can last 5~8 years or more.
However, the longevity of the net is also influenced by the environment it is installed as well as the amount of yearly maintenance you carry out.
More
Related
Blueberry Bush Netting Supplies
The Smart Way To Protect Your Orchard from Bird and Pest.
EyouAgro Strawberry Netting is an ideal mesh for the maximum protection of strawberries, blueberries, and other fruit plants. It is lightweight and extra thick for the full coverage of fruit trees. Crop netting is sturdy and durable and can withstand the effects of all severe weather.
5 years warranty and can withstand the effects of bad weather and the sun.
Strawberry bird nettings are highly flexible, and they can be cut to any size.
It saves the taste and quality of fruit and prevents it from chemical reactions.
It increases the production yield and overall profit to your business.
EyouAgro Blueberry Netting is produced using polypropylene – an environmentally friendly material that is suitable for horticultural farming. Rblueberry bush netting provides a protective shield by keeping the ripening fruit out of reach from hungry birds, pests, and insects.
Durable and lightweight – made from a lightweight and highly durable material
Environmentally friendly – Polypropylene will not contaminate your fruit
Rot-free and UV-friendly raspberry tree protection netting – The material is it rot-free
Longevity – An impressive useful life of 5-8 years
Frustration-free installation – easy to install
Commercial cherry tree growers will devote their time and resource to produce high-quality fruits. By the time cherry fruits have started ripening time, problems with wildlife are already there. The fine-looking fruits are attacked by birds and other wildlife. Here comes Cherry tree netting as a savor to protect your orchard and save you from losing your investment. This is a material created to protect cherry orchards from threats like birds. Some of its features are listed below.
Protection from birds,
Ultra-violet light protection,
Easy to install and remove.
Raspberry Netting: The Comprehensive Guide (2021)
Birds are annoying, especially when you have a field of raspberries. The frustrations caused by birds and other pesky animals pushes farmers to resort to scare devices that only work for a couple of days. Raspberry bush netting presents you with the most efficient way of safeguarding your raspberries if installed three weeks before the fruit ripens.
What is Raspberry Netting?
Raspberry netting is one of the most effective ways of protecting your fruits from hungry squirrels and birds while still letting air and light into the tree canopies. The net is made from high-density Polypropylene that enables the material to protect your crops for many years.
What are the different types of Raspberry Netting?
There are different types of raspberry tree netting available today. The most popular include the following:
Lightweight raspberry bird netting – Weighs 15 grams per square meter and is supplied with a warranty covering 3 years and UV protection.
Raspberry fruit tree bird netting – Weighs 35 grams per square meter and is supplied with 5 years warranty and UV protection.
Canopy Bird Netting – Weighs 60 grams per square meter and is supplied with 8 years warranty. The netting is also UV protection.
 What are the Benefits of Installing Raspberry Netting?
The benefits of installing raspberry netting are almost endless. However, the most important include the following:
Improved protection from birds and other critters thereby improving overall fruit yield in your orchard
Allows pollination by insects – Even though raspberry netting stops birds from consuming ripe fruits, insects can pollinate the crops.
Increased efficiency in light use – a factor worth considering when you need to determine the percentage of netting to use on your orchard.
Improved canopy fill-in
Increased photosynthesis
Major reduction in sunburn –equivalent to what growers experience in evaporative cooling
Where is Raspberry Netting Used? ( Application area)
You should ideally install raspberry netting on the bushes where raspberry fruits hang.
You can either use the nets to cover the bushes or use frames to hold the nets in your raspberry vineyard.
 How do you install Raspberry Netting on Your Raspberry Farm?
Step I: Cutting the Netting
Cut the raspberry netting to the desired shape and size with a pair of shears or scissors. Double-check to make sure the dimensions are correct and leave some extra netting for overlap seams and perimeter fastening. It is safer to leave a bigger allowance in the dimensions and have bigger netting than you might use.
Step II: Join the Nets Together
Join the pieces of the nets while making sure the overlap is 6 inches or more and install the fasteners on both sides. Avoid using metal net rings when sealing the seams. Use clips for connecting or joining the nets.
Step III: Perimeter Fastening
When performing perimeter fastening, roll the net edges 2-3 times and then install the clips. You can use elastic wire or polyester wire.
Step IV: Interior Support
Use beams, trusses, or overhead pipes to support the interior of the netting. Fasten the net to the aforementioned overhead support items and keep checking on these often.
Step V: Fitting Netting Around Objects
When fitting the net around rectangular or square objects, cut a 'T' in your netting while ensuring it is the same depth and width as the column. You may use the netting you cut off to fasten hardware on the perimeter.
 When should you install the Raspberry Netting to get the timing right?
Wait until right after pollination as the raspberry fruits begin to appear in green form. Then use raspberry netting protection to cover the trees. The netting system comes in handy to protect the fruits as they ripen.
Tips for Raspberry Netting
Dos
Research The Different Types Of Raspberry Netting Systems
Research the ideal type of raspberry netting system that will match your needs. Compare different types of net sizes, the weights, and the accessories or equipment that will be required for the install.
After identifying the type you need for your orchard, feel free to place your order.
     2. Organization Is Key
As you prepare to install the netting system, you should remember to keep the process organized.
You may want to stretch out your netting to its full length, find the corners and determine the side that goes up.
By staying organized, you effectively minimize tangles thus making the installation job more manageable and easier.
Create Some Access Points
If you decide to use raspberry netting for the protection of your fruits from birds and other pests, remember to create some access points to make harvesting easier.
While these netting systems are designed to keep out birds, you should be able to have inside access to tend to your orchard.
Don'ts
Don't Install When Its Wind
Even in the calmest of weather, it might be a little challenging to install raspberry bush netting systems. If handled improperly, some nets become knotted or tangled. Therefore, attempting to install the netting system, especially when it's particularly windy makes the installation job more challenging than waiting for days when it's less windy.
Don't Assume All Raspberry Bush Netting Systems Are The Same
It is worth noting that raspberry netting systems come in different materials, sizes, and weights. For this reason, you should make sure you choose the ideal netting system that matches your specific needs before making an order. Consider the following aspects:
The bird species you would like to deter from your orchard – materials, weights, and net sizes differ and you can choose the appropriate size depending on the bird species you would like to deter.
The sort of property you would like to protect – netting systems tend to vary and you can choose the suitable one based on the property you are protecting. Note that the type of net systems used for structures and buildings are different from the ones used in crop or gardening protection.
It is no permanent fix
While raspberry bush netting systems are designed to deter birds and other pests from destroying your fruits, the netting system will not last forever. The good quality nettings systems we provide last anywhere between 5-8 years. After this period, nets tend to deteriorate and develop gaps and holes that may allow birds and other pests to access your orchard and damage your fruits. We strongly suggest that you schedule regular maintenance and budget for updates in the future.
 How should I go about buying raspberry netting?
If you wish to order raspberry netting that suits your specific farming needs, we encourage you to Contact EyouAgro Team and an expert will get in touch to take you through the order process.
 Conclusion
Would you rather risk hurting your yield by sharing your fruit bounty with the birds and squirrels or utilize a system that works to protect your crops? Discover the netting solutions available for your orchard by consulting an expert at EyouAgro and learn about the amazing techniques that enable you to protect your crops.
Hey, I'm Kevin Lyu, the founder of Eyouagro.com. Family-run business.
An expert of agriculture protection textile specialist .
In the past 24 years, we have helped 55 countries and 150+ Clients like farms, orchards , vineyards to protect their plants. The purpose of this article is to share with the knowledge related to agriculture growing protection for making the plant healthier and stronger.
EYOUAGRO Repsects Quality Standards