the best solution for controlling temperature and getting shade from UV rays.
The SUN PROTECTION  Solution For High-Yield Orchard!
EyouAgro Shade Net is available in a large variety of sizes, colors, and shapes. It provides you 85% UV block. It is best to use for any outdoor area where you work, play or relax.
It is made from HDPE(high-density polyethylene)
It can provide 30%-85% UV block
Absorb heat and minimize fruit damage
Color of the net: black, white, gray, and transparent.
Protection from hail, wind, and sunburn.
5 – 10 Years Quality Guarantee
Table Of Contents For This Page
To make sure you can find the information you want quickly,
we have prepared this content directory that will jump to the corresponding location when you click on it.
General
Application
For Shade Cloth
Shade cloth has the following wide range of applications , Inquiry us for more solution.
General
Hot Selling
Products
Shade Net to Protect Your Orchards
Find the rights Shade Netting below for your Orchard; All of our products are provided with up to 8 years warranty.
110g/m2 · 40% · Monofilament
145g/m2 · 60% · Monofilament
160g/m2 · 75%  · Monofilament
| | | | | | | | |
| --- | --- | --- | --- | --- | --- | --- | --- |
| ProductNo. | Type | Mesh Size[mm] | Weight[g/m2] | Shading[%] |  Width[m] | UV Warranty                | Ideal for |
| SHN40 | Mono. | – | 110 | 40 | 2  – 4 – 4,5 – 5 – 6 | 5 Year | Cost-Effective | Sun Shade Protection |
| SHN60 | Mono. | – | 145 | 60 | 2  – 4 – 4,5 – 5 – 6 | 8 Year | High Tension  |  Sun & Wind Protection |
| SHN75 | Mono. | – | 160 | 75 | 2  – 4 – 4,5 – 5 – 6 | 8 Year | Multipurpose, Durable | Hail Protection Shade Protection | Canopy |
| SHN95 | Tape | – | 190 | 90 | 2- 2,5 – 3 – 3,5 – 4 | 5 Year | High Shading | Sun Protection System  |
EyouAgro is a Shade Cloth Manufacturer in China.
We can produce Shade Cloth for Cattle, Agriculture, Garden, Car Parking,  and so on.
No matter if you are looking for a wholesale supplier or if you need a custom-made shade cloth , we can all help.
Send inquiry to get an instant quote now!
How to
Choose
Insect Netting Supplies
The Smart Way To Protect Your Greenhouse from Adverse Weather.
| | | |
| --- | --- | --- |
|   | Shade % | Crops |
| 1 | 30 | Asters, Chrysanthemums, Snapdragons, Geraniums |
| 2 | 40 | Herbs, Vegetables, Iris, Lilies, Gloxinias |
| 3 | 50 | Focus, Bromeliads, Orchids |
| 4 | 60 | Ferns, Orchids, Azaleas |
| 5 | 70 | Philodendron, Ferns, Orchids |
| 6 | 80 | Patio Shade and Screen. Allows a lot of water to pass through |
| 7 | 90 | Aglaonema and  Heavy Patio Shade |
| 8 | 100 | Complete sunblock, no water pass through, like a tarp and made of solid material. |
More Netting Fasteners to Support Your Orchards
With the help of unique Plastic Accessories;
The Netting could be easily installed, fastened, and collected.
Try this netting calculator to get an approximate purchase requirements and send an enquiry to me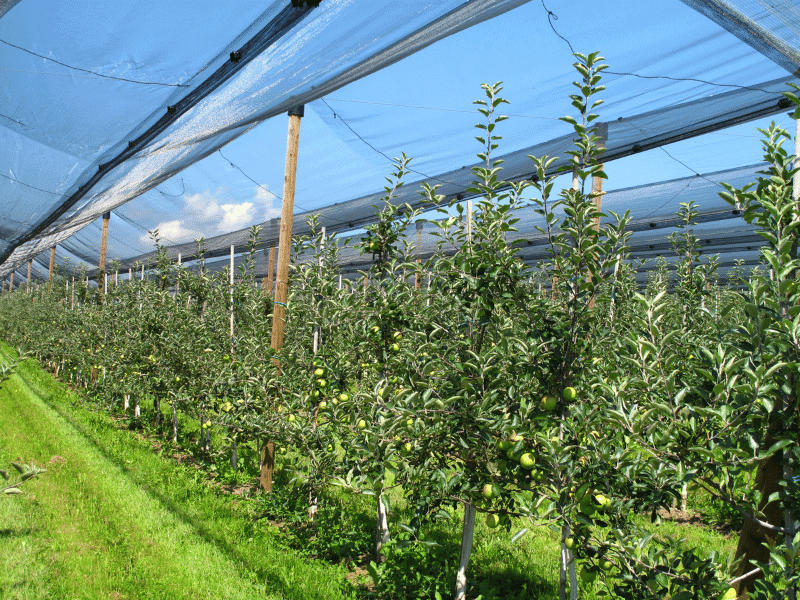 Our Netting Calculator will give you a custom agricultural netting quantity based on the Length & Width & Row of your orchard or vineyard netting project.
I purchased Bird Netting and Hail Netting from EyouAgro so many times, it is very fast shipping, good and accurate product, got them fast and as usual very good condition, all work great, all is great and love these goods.
Obviously this is a five star of quality suppliers, we will certainly buy again EyouAgro products, and I wish you the business is thriving!
We are Italy professional raschel netting manufacturer.
Few days ago I did an accelerated aging test on plant where I mounted your nettings. The test was very positive and products had worked very well.
It is very happy to find EyouAgro company, they give us a very good reputation in our place, and let our customers to enjoy the cheap price with very high quality.
My name is Ms. Svetlana Gogu from Chilean Company. My company mainly operates on Agro Covers. Eyouagro with good quality, fine workmanship and timely reply, and important, cooperate with the Eyouagro without trouble, the sales person always can understand my emails meaning.
This feeling makes me good, and comfortable. Thanks.
We received all set of documents a few minutes ago, everything is going smoothly here and hopeful we can have the goods soon at our warehouse. Your service is fantastic as I just place the order on January and the goods arrived so quickly, and you have fixed everything for me!
I like buying from Chinese company like yours.
A Brief
Self-Nomination​,
Why Choose EyouAgro?
Founded in 1996, EyouAgro uses Knitted and Woven technology to design, develop and manufacture Agriculture Protection Textiles.
EyouAgro offers clients a wide choice of standard and customized Polymer Netting for their farm or orchard needs.
Reliable Shade Cloth Manufacturer in China
Keeping the plants protected from adverse weather conditions!
EyouAgro has a significant shade cloth manufacturing capability.
Certified by ISO9001, REACH, Rohs, SGS certification.
Automated Raschel production line, creating over 10,000sqm per day.
Manufacture directly, large scale production and Well trained workers.
Whether you need Shade Cloth or need to custom any netting products.
EyouAgro always satisfies your needs.
How does the colour of the shade net impact the growth of the plants?
Colour is the central aspect you should consider when choosing a shade net or shade cloth. It makes a big difference. Shade net is available in various colors, but the most common colors are green and black.
White color can reduce the light quantity. So it is best for flowering plants. Black and green nets can use for rapid plant growth. They absorb more heat as compared to light colors.
How to choose the appropriate shade density for plants?
Density percentage is one of the one's features you have to consider before purchasing shade net. It will be according to the requirements of your plants. It affects their growth, and it is necessary to choose a shade net by keeping in view the types of plants you are growing.
Available % of density for shade net

Suitable for the plants

20%-30%

 

It is suitable for the plants such as squash, tomato, and pepper that can tolerate heat.

 

40%-50%

 

It is best for flowering plants such as begonias, azaleas, orchids, lilies, and camellias.

60%

 

It suggests sensitive plants such as spinach and lettuce.

 

70%-90%

 

It is good to use for the ornament planets such as palms, dracaena, ferns, and philodendron.

 
How can I select shade net colour for my peach trees?
It will be better to use red, grey, blue, or yellow colors for your peach. The shade net should have a 30% density for the maximum results, and it will be effective and increase vegetation growth on your peach trees.
You can help by contacting your shade net supplier. They will suggest you the best color for your crops.
Which is the right side of the net to installation?
Shade net can use both sides. Either you can use it side up or install it side down. It will provide you with equal protection from all sides. But if you want to make it easy to clean, we suggest using a shade net by installing it rough side down.
This way, debris, and duct can't get caught with the shade net, and it will be helpful to keep it clean.
What things should I need to consider for purchasing shade net?
It would be best to keep in mind many factors before selecting a shade net for your plants or greenhouses. It doesn't matter where you are going to use shade net. You have to consider some fundamental factors that mainly contribute to the shade net prolonged the last working. Some of these factors are:
Shade net color: It is critically important to choose a color depending on your plants' requirements. Plants have different levels of heat tolerance. Some are strong enough to withstand heat, while some delicate and sensitive plants need more protection from UV rays and heat.
So choose the color considering your plants' sensitivity and the basic requirements of shade for your plants.
Shade net density ratio: You can divide shade net into some subclasses based on their density percentage. More density means they provide more covering and shade from UV rays while shade net having less density design to fulfill the demand for less shade and sun protection.
Material: Material is one of the main three factors you need to consider. Shade net may be woven or knitted. The woven shade net manufacture with 100% polypropylene. It is more suitable for winter use and heavy than a knitted shade net.
It can build up more heat. The knitted shade net may design by blending polyethylene, which is lightweight and can deflect light and heat. It is light weighted and can withstand weather changes and tear and wear.
Can the shade net protect my vehicle parked outside?
Yes, it can protect your vehicle and gives you complete protection from sun rays. It also helps you in protecting your vehicle from snowflakes, harsh wind, and hail. It can smooth and don't create scratches on your vehicle.
How are light-duty shade nets and heavy-duty shade nets different?
Hail netting can save thousands in damages from hail storms and other disasters, but how long does it last? Eyouagro's hail netting has been tested for durability and longevity by factory personnel with years of experience with these products. This means our nets will protect your property longer than other brands out there! Typically, Eyouagro hail netting could last for 5-10 years at least.
Which are the different properties of shade net?
Shade net has various properties, which make it one of the best choices for growers.
Some of the fundamental properties of shed net are:
Breathability
Easy to install & clean
UV stabilizer & optimal screening
Unique heat settings & non-shrinkage fabric
Durable & long service life
More
Related
Shade Cloth Supplies
The Smart Way To Protect Your Greenhouse from Adverse Weather.
Transparent Energy Saving Screen ( TES), is an innovative solution to increase light transmission and heat retention to save energy both day and night for your greenhouse.
EyouAgro have been the professional Transparent Energy Saving Screen manufacturer in China for more than 10 years.
It is manufactured with High-Strength and eco-friendly polyester yarn and PET film by knitted structure.
Blackout Shading Screen (BSS), also called Darkening Screens or light deprivation Screen, is made of aluminum foil and polyester material through a special process, with good shading effect, the shading effect can reach 99.9%.
Provides the dark environment needed by special plants such as gerbera, Hemp, and Cannabis. Shorten the duration of sunlight.
Diffusion Shading Screen(DSS), also called Light Diffusion Screens, is an innovative climate solution screen to improve the light combination from different angles, scatter to plants and enhance the growth of crops.
The basic function is to block direct sunlight and adjusting the indoor temperature. On a cold night, it can prevent the loss of indoor temperature, play the role of energy-saving.
Shade Net:
The Comprehensive Guide (2021)
Sun rays have dangerous impacts on both humans and plants. It is critical to protect yourself and your plants from the harsh and burning rays of the sun. However, you can spend some time getting a dose of vitamin D but don't cross the time limit.
Otherwise, it will be harmful to your health. One of the best ways to reduce the complications of rays is to use a shade net and shade cloth. It can reduce the burning effects and block up to 90% of UV rays.
What is a shade net?
A shade net provides you with the best and easy solution to block the sun's UV rays. It cools down the area and doesn't block air and rain from passing through. It specially designs to secure more than 90% of sun rays and provide protection to your homes and crops.
Shade net makes your outdoor areas more soothing and also can use for outside parties in hot summer. Its various applications make it a long-lasting investment of your money.
Why is shade net Important for your crops and homes?
Shade nets or sunscreens can help you in increasing comfort. Its durable and high-quality material makes it suitable for various applications, and you can use a shade net for the pet enclosures and crop cover. If you want to spend your time on hot summer days, it will be good to use shade cloth or netting.
The selection of the correct color can help resolve ventilation issues.  It will provide your plants with more heat from the sun.
It provides you shade and privacy, and you can easily install it. It also protects your crops and fruits from UV rays and protects from sunburn. It allows air and water to transmit, so it provides requirements to plants. So the use of a shade net is effective for both of you and your plants. It proves a good lifetime investment.
What are the applications of shade net?
Shade net has many applications and benefits that make them inevitable for your crops and your life. This breathable fabric helps and provides you maximum protection from harmful sun rays.
You can use a shade net for your courtyard, pool, lawn, garage, and deck. It will have different density variations and prove the best choice for all types of shadow applications. It can create a comfortable, calm, and protected area for you. 
What are the benefits of a shade net?
It is best for the protection of sensitive plants.
Shade net protects from hail and UV radiation.
It can be helpful in cool down the atmosphere of the shade house and garden.
Shade net provides you with high-level ventilation.
It also prevents pest birds from damaging crops and areas.
A shade net can help retain moisture in plants.
They protect your plants and crops on hot summer days.
They are suitable for providing healthy ventilation to your plants.
It provides you maximum airflow and ensures durability.
They are easy to install and clean. You can clean it with a garden hose.
The Shade net keeps the air fresh and allows hot air to push out of the shade net.
It manufactures with lock stitch knitting, and it prevents unraveling.
It perfectly suits the protection of crops, flowers, and fruit trees against server hail damage and frost.
How many types of shade net are available?
Mostly there are three types of shade net use for various applications. These types have different shading rates and specifically design to perform other tasks.
Plants & vegetable shade net
Seedling shade net
Outdoor shade net
Plants and vegetable shade nets can create a 40% shadow area, making them suitable for plants and vegetables. It also proves helpful for plants growth.
The seedling shade net is suitable for seed production and has a 70% shadow area.  It is best for the plants which don't require sunshine.
Outdoor shade nets can use for various applications, such as for dog houses and outdoor construction works. You can use them anywhere. They create more than 90% shade area.
Where can you use a shade net?
The Shade net can use for many applications. You can install it for the protection of your garden and garage.
Shade nets and cloth can widely use for camping and hiking purposes. It keeps you cool and allows proper airflow to keep the temperature down.
Shade net is a perfect choice for the covering of playgrounds and tennis court areas. It gives you complete protection from climate changes like hail, snowflakes, and windy air can block by putting shade net. It also protects your vehicles as it can cover your car and truck.
What is the material used for the manufacturing of shade nets?
Shade net is built-in custom-designed panels to provide control from sun UV rays and wind. The net material can construct and mold to fulfill all requirements of its usage. It is one of the cost-effective solutions for protecting greenhouses, decks and provides you restriction and privacy.
The material of the shade net is sturdy and robust enough to withstand harsh weather. You can get shade net or cloth according to your needs and stitch or add any other materials. It will depend on your selected design if you add something like a net or accessories with a shade net to enhance its applications. The shade percentage may vary from 08-95%, and it is easy for you to get shade as you need it.
Conclusion
A shade net can protect your plants and cover the nursery, garden, greenhouse, and home. It provides you better outdoor living atmosphere. It can resist sun rays and is a suitable transmitter of air and water. It is easy to adapt according to the variety of plants and vegetables.
EyouAgro shade net surpasses all leading net manufacturing companies, and you can get a large variety of shade net and other net products by contacting us.
Hey, I'm Kevin Lyu, the founder of Eyouagro.com. Family-run business.
An expert of agriculture protection textile specialist .
In the past 24 years, we have helped 55 countries and 150+ Clients like farms, orchards , vineyards to protect their plants. The purpose of this article is to share with the knowledge related to agriculture growing protection for making the plant healthier and stronger.
EYOUAGRO Repsects Quality Standards