Protect Your  Grape Vines Farms by keeping birds and insects and hails away from them
Commercial Vineyard Bird Netting
Keep The Pest Birds Away From Your Vineyard Completely!
EyouAgro vineyard netting is a type of bird netting which is the most effective solution to tackle all bird and pest problems in your vineyard.
Pure Polypropylene material: ECO-Friendly and Safe
Made from durable (HDPE) to withstand extreme weather conditions for over 5 years.
Lightweight yet heavy-duty netting.
Long-Lasting:  long life of up to 5~8 years.
Customizable sizes to your individual needs
Table Of Contents For This Page
To make sure you can find the information you want quickly,
we have prepared this content directory that will jump to the corresponding location when you click on it.
General
Application
For Vineyard Bird Netting
Bird & Pest Control Netting has the following wide range of applications , Inquiry us for more solution.
General
Hot Selling
Products
Vineyard Netting to Protect Your Grapevines Orchard
Find the rights Blueberry Netting below for your greenhouse; All of our products are provided with up to 5 years warranty.
Vineyard Drape Netting is a kind of overhead bird protection for grapevines. Cost-Effective. 5 years Warranty.Special strong selvage. 
35g/m2 · 15x15mm
Vineyard Side Netting is a type of narrow-width netting to protect Grapes bearing Vines by placing on the lateral sides of the vines. 
60g/m2 · 8.5×2.5/2mm
Vineyard Hail Netting is a Heavy duty innovative design. Strong Leno woven mesh, 5 years Warranty. ideal for hail protection. 
55g/m2 · 8.5×2.8mm
Vineyard Insect Netting is a lightweight, durable netting that comes in a variety of sizes and will last season after season.
90g/m2 · 8.5×1.0/2mm
| | | | | | | |
| --- | --- | --- | --- | --- | --- | --- |
| Product No. | Mesh Size [mm] | Weight [g/m2] | Shade Value | Size [m] | UV Warranty | Ideal for  |
| Vineyard Drape Netting | 15x15mm | 35 | 23% |       4.0x300m        5.0x300m | 5 years | Light Weight | Overhead bird protection |
| Vineyard Side Netting | 8.5×2.5/2mm | 60 | 18% |  0.75x500m 0.90x500m | 5 years | Cost-Effective  | Bee and Wasp Protection |
| Vineyard Hail Netting | 8.5×2.8mm | 55 | 12% |  4.0x100m 4.5x100m | 5 years | Durable | Bird and Hail Protection |
| Vineyard Insect Netting | 8.5×1.0/2mm | 90 | 40% | 2.0x300m 2.5x300m | 8 years | Heavy Duty, Strong | Popular for canopy |
EyouAgro is a Vineyard Netting Manufacturer in China.
We can produce Vineyard Bird Netting, Vineyard Insect Netting, Vineayrd Hail Netting for your Orchard.
No matter if you are looking for a wholesale supplier or if you need a custom-made vineyard netting , we can all help.
Send inquiry to get an instant quote now!
More Netting Fasteners to Support Your Vineyards
With the help of unique Plastic Accessories;
The Netting could be easily installed, fastened, and collected.
Vineyard Side Netting Clips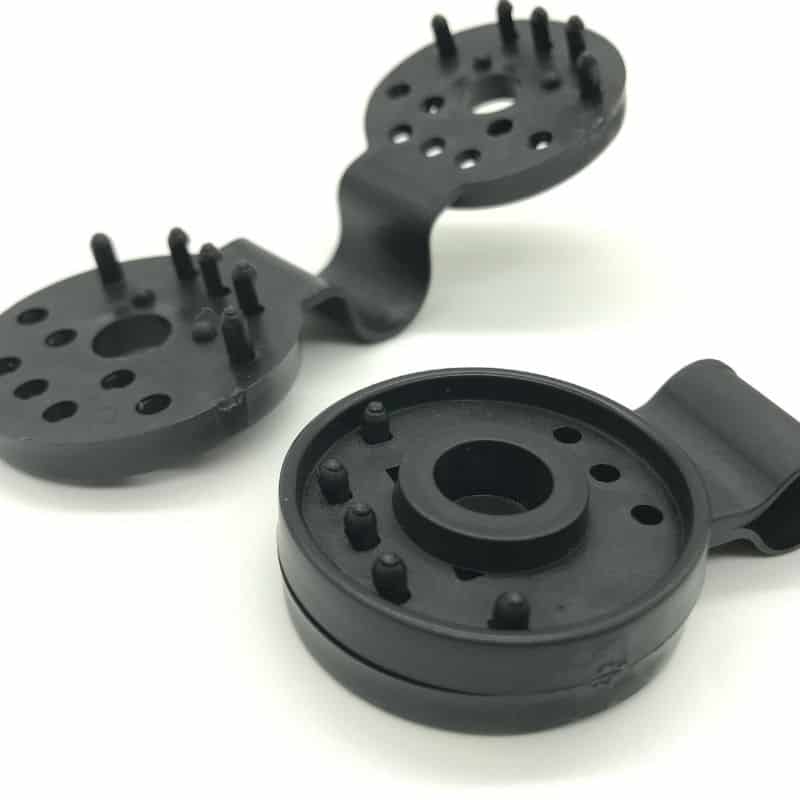 Vineyard Netting Fastener
Try this netting calculator to get an approximate purchase requirements and send an enquiry to me
Our Netting Calculator will give you a custom vineyard netting quantity based on the Length & Width & Row of your Vineyards project.
I purchased Bird Netting and Hail Netting from EyouAgro so many times, it is very fast shipping, good and accurate product, got them fast and as usual very good condition, all work great, all is great and love these goods. Obviously this is a five star of quality suppliers, we will certainly buy again EyouAgro products, and I wish you the business is thriving!
We are Italy professional raschel netting manufacturer. Few days ago I did an accelerated aging test on plant where I mounted your nettings. The test was very positive and products had worked very well. It is very happy to find EyouAgro company, they give us a very good reputation in our place, and let our customers to enjoy the cheap price with very high quality.
My name is Ms. Svetlana Gogu from Chilean Company. My company mainly operates on Agro Covers. Eyouagro with good quality, fine workmanship and timely reply, and important, cooperate with the Eyouagro without trouble, the sales person always can understand my emails meaning. This feeling makes me good, and comfortable. Thanks.
We received all set of documents a few minutes ago, everything is going smoothly here and hopeful we can have the goods soon at our warehouse. Your service is fantastic as I just place the order on January and the goods arrived so quickly, and you have fixed everything for me!
I like buying from Chinese company like yours.
A Brief
Self-Nomination​,
Why Choose EyouAgro?
Founded in 1996, EyouAgro uses Knitted and Woven technology to design, develop and manufacture Agriculture Protection Textiles.
EyouAgro offers clients a wide choice of standard and customized Polymer Netting for their farm or orchard needs.
Reliable Vineyard Netting Manufacturer in China
Keeping the plants protected from adverse weather conditions!
EyouAgro has a significant Vineyard Netting manufacturing capability.
Certified by ISO9001, REACH, Rohs, SGS certification.
Automated Raschel production line, create over 50,000sqm per day.
Manufacture directly, large scale production and Well trained workers.
Whether you need Vineyard Bird Netting or need to custom any netting products.
EyouAgro always satisfies your needs.
Frequently
Asked
Questions
If your question is not listed, please email us right now.
How do you install a vineyard Net?
Installing Process of put a Vineyard Netting:
Dig a trench around your vineyard, about 6 inches deep.
Cut pieces of vineyard netting to fit the area you need to be covered.
Place one end of vineyard netting in a trench and then place another end over the top, so that ends meet in the middle of the trench.
Fill dirt back into the hole until level with ground surface or slightly above, depending on how high you want the vineyard netting to go up.
Stakes should be spaced about every five feet around vineyard netting and positioned to hold it in place.
Run wires or string through the holes on top of vineyards' Netting. Then do this again for the opposite side. The string is what I used because it was easier to find my twine when I needed a new section.
Tie vineyard netting to the stakes as you make your way around the vineyard
Finally, cut off excess string or wire, so there is no risk of touching grapes when vineyards are in full production.
When should you net a vineyard?
To net a vineyard, you must first know when it is the best time to do so. It can be difficult for vineyards in certain climates because there are two different types of vineyards: cool and warm climate vineyards. Knowing what type of vineyard, you have will help determine the correct timing for netting your vines.
For vineyards in cool climates, you should net your vines during the winter or when frost is threatened. This will prevent pests from coming up and eating any leaves that might be left on the vine. It also helps to keep the sun off of grape berries which could cause them to freeze before they are ripe enough for harvest.
For vineyards in warmer climates,you should net your vines during the fall. This will help protect grapes from frost or freezes and keep the leaves cool, not getting too hot and overheating. It also helps to maintain good air circulation around vine roots.
Why do you should cover grapevines with Netting?
Vineyard Netting is a protective covering for grapevines to protect them from bugs and birds. Vineyards are an important part of the wine industry all around the world. It is the most common and popular cover for grapevines, and you should use it to protect their grapes from powdery mildew, birds, or other pests.
Why should you use vineyard side netting?
The Vineyard Side Netting is the best way to protect your vineyards from birds, raptors, and other predators. The Netting has a mesh size of .05 inches to keep out even small songbirds like blackbirds. This high-quality screen could install on any type of wire or trellis system using Eyouagro Vineyard Side Netting Wire Clips.
Which vineyard netting is best?
It can be difficult to find the best vineyard netting if you are looking for vineyard netting for your vineyards. There is a wide variety of vineyard nettings on the market with versatile qualities and features. Fortunately, eyouagro produced vineyard netting is one of the best choices because of its high-quality construction and competitive prices. 
What are the Key Benefits of Premium Quality's Vineyard Netting?
Key Benefits of Eyouagro vineyard netting: 
Eyouagro Vineyard netting is made of high-quality materials. It will guarantee you to provide years of use.
It comes in a variety of different sizes. Therefore, you can choose one the best fits your vineyards' needs.
The prices are some of the most affordable on the market, making it a great choice for vineyards on an affordable budget.
How do Vineyards protect grapes from birds?
By installing, you can protect your grapes from birds from eating your grapes. Easy installing process of Vineyards Netting:
Make sure you have the right size vineyard netting by measuring your structure. Ideally, it should be about 1" from the ground up and stretched tight with no slack in the material.
Measurements will vary depending on what type of vineyard netting you buy. Always read our instructions carefully!
Tie one end of vineyard netting tightly around post or pole using string or wire tie-down straps. Secure another end of vineyard netting to the ground.
How to Keep Your Garden Foliage Protected with Vineyard Netting?
It's important to keep your vineyard netting in good shape to protect the foliage from pests and harsh conditions. Here are three things you can do to ensure that vineyard netting stays strong for years of use!
Inspect vineyard netting annually 
Replace vineyard netting every five years or sooner if it has become too damaged or brittle
Clean vineyard nets with a mild soap solution.
How long does vineyard netting last?
There are different types of vineyard netting, but the most common is a polypropylene mesh vinyl that's UV treated. That's why Eyouagro vineyard netting provides maximum durability and weather resistance against all outdoor elements like wind, rain, sun, hail, snow - even animals! This vineyard netting will last up to 8~10 years.
Where to buy vineyard netting?
Eyouagro is a leading provider of vineyards netting too many different regions across the world. From California to France and Australia, eyouagro has supplied the finest vines globally with their high-quality products. They are a company that prides itself on being environmentally conscious as well as sustainable. So, you can buy vineyard netting from eyouagro.
More
Related
Vineyard Netting Supplies
The Smart Way To Protect Your Grapes From Nuisance Birds
Ideal for Connect net and fabrics on the wire on the top
Made of injection mold with our own mould
With UV resistance to atrocious weather for lasting durability
High bite force to ensure safety of net
Easy to install on netting selvage
Warranty – 10 years
Vineyard Netting Applicators
Ideal for installstion the Vineyard Netting.
Automatic ,Beyond the time savings of 90% 
Simple design and and with a hydrostatic tractor very easy to use
Netting wound tight on steel spindles
For single & multiple row or full canopy netting
Material – 100% Virgin High-Density Polypropylene
Weight – 60 GSM
Color – Black and White
Construction – Monofilament Raschel Knitted
UV Resistance – 500KLY
Life Expectancy – 5 years
Vineyard Netting: The Buyer Guide (2021)
Growing grapes is a pleasure and has a purpose. Whether you are an amateur winemaker or you have a commercial vineyard, you want to ensure that you get 100% of your grape yield for yourself. Would you like to share your grapes with some greedy birds?
I am pretty sure the answer to that question is NO.
Let EyouAgro Vineyard bird netting help you keep your grapes safe from hungry birds. With EyouAgro vineyard netting you get a safe, effective solution to get maximum productivity from your vineyard.
Read on to know more about vineyard bird netting, its features, and how vineyard bird netting can help you.
What is Vineyard Netting?
Vineyard netting is a wide mesh high density polypropylene netting designed to cover your vineyard and keep the birds away from your grapes. The vineyard bird creates an optimal microclimate for grapes to grow.
Install vineyard bird netting to ensure the profitability of your wine business
Different Types of Vineyard Netting
Vineyard Drape netting is made from high-density polypropylene material. This type pf of netting is strong and has good impact strength. With the right mesh sizes, extruded vineyard netting can be used to keep out small as well as big birds from your vines.
Vineyard Side netting is made of high-density virgin HDPE material. It is composed on knitted monofilament that confers great tensile strength. Hence knitted vineyard bird netting is resistant to damage by birds and lasts long.
Knitted vineyard bird netting is available in different mesh sizes to meet your needs.
Vineyard Hail netting is available in white, black and green colors. Green vineyard bird netting provides a more subtle look as it blends well with the foliage.
Black color vineyard bird netting tends to increase the heat absorption by the vines.
White vineyard bird netting is the best choice as it allows light and air to pass through comfortably to the plants. Further, white is color is more visible to the birds, Thus white vineyard netting does a more effective job of keeping the birds away,
The vineyard Insect netting is incorporated with UV-treated material. This makes the netting hold well under sunlight season after season, EyouAgro UV treated vineyard netting lasts for 5- 8years, giving you maximum value for money.

Why is Vineyard Bird Netting Important?
Vineyard bird netting is important for the profitability of your vineyards. When you have acres and acres of vineyards, it is impossible to keep track and manually protect your grapes from birds. Using vineyard bird netting creates a physical barrier between the birds and your grapes and keeps them safe.
Benefits of Installing Vineyard Bird Netting
Vineyard Bird Netting Produces High Quality Yield
Vineyard bird netting is a systematic and professional solution to the problem of birds pecking at your grapes. Large areas of vineyards can be effectively covered with vineyard bird netting. By using overhead vineyard netting or side cover vineyard bird netting, you can provide 100% protection to your grapes.
This ensures that you receive high-quality, undamaged crop yield.
Vineyard Bird Netting Produces Flavorful Wine
Without the protection of vineyard bird netting, birds will be free to peck at our grapes. This can cause bacterial or fungal infections in your crops, damaging the yield.
Interference by birds may also cause alteration in the flavor of your wines.
These issues can be avoided by installing vineyard bird netting prior to harvest. This keeps your grapes safe and your wines flavorful.
Vineyard Bird Netting Increases your Business Profitability
Vineyard bird netting ensures that you get a good crop yield. Also, the flavor of your wine is maintained.
In addition, the purchase of vineyard bird netting is a one-time investment that gives you benefits season after season for 5-8 years.
All these factors put together to increase the profitability of your business.
How to Buy Vineyard Bird Netting
Try your local stores for Vineyard Bird Netting
Stores in your area that sell garden supplies will sell vineyard bird netting. You can also check your local supermarkets. If your area has a distributor for agriculture protective netting, they will surely stock vineyard bird netting.
Search Online for Vineyard bird Netting
If you have a requirement for vineyard bird netting in bulk, online search gives you wider options. Vineyard bird netting is available at the best prices online.
EyouAgro, based in China, can offer your best discounts and shortest delivery timelines for your vineyard bird netting requirements.
How to Install Vineyard Bird Netting
Installing Overheard Vineyard Netting
Overheard vineyard bird netting covers the entire vineyard over the top like a roof. In this case there are long posts are created across the vineyard. The vineyard tree netting rests like a roof on the posts.
The overheard vineyard bird netting is like an overhead canopy and offers good protection for your grapes.
Installing Vineyard Side Netting
Side vineyard bird netting is installed along the sides of the vine, specifically protecting the fruiting zone. Installing side vineyard bird netting is relatively simpler and more vineyard owners prefer this.
After installing the side vineyard bird netting, don't forget to clip the two ends of the netting on either side of the vines. This will prevent the birds from getting to the fruits from the top.
Also, clip the vineyard bird netting overhanging at the bottom for added effectiveness.
Conclusion
Wine is relaxing for your customers. But growing grapes in your vineyard to produce wines is hard work. Make sure to get all the possible advantages to ensure the smooth operation of your vineyard. In this regard, vineyard bird netting is a very important parameter. Vineyard bird netting keeps your grapes safe and ensures that you have a good harvest at the end of all the hard work.
Get in touch with us today to know more about vineyard bird netting and how we can help your vineyard prosper.
Hey, I'm Kevin Lyu, the founder of Eyouagro.com. Family-run business.
An expert of agriculture protection textile specialist .
In the past 24 years, we have helped 55 countries and 150+ Clients like farms, orchards , vineyards to protect their plants. The purpose of this article is to share with the knowledge related to agriculture growing protection for making the plant healthier and stronger.
EYOUAGRO Repsects Quality Standards