The smart choice for protecting your fruits from pests like bird and small animals.
Commercial Fruit Tree Netting
The HAIL-PROOF Netting Solution For High-Yield Orchard!
EyouAgro fruit tree netting is composed of fine mesh, polypropylene material that is safe and non-toxic. The fine mesh size ensures that there is a 100% physical barrier between the pests and your fruits.
Applications in all fruit orchards
Lightweight fine mesh is available for single-use
Heavy-duty fruit net cover is available for canopy protection.
Color of the net: black, white, gray, and transparent.
Protection from bird,hail, wind, and sunburn.
5 – 10 Years Quality Guarantee
Table Of Contents For This Page
To make sure you can find the information you want quickly,
we have prepared this content directory that will jump to the corresponding location when you click on it.
General
Application
For Fruit Tree Netting
Fruit Tree Netting has the following wide range of applications , Inquiry us for more solution.
General
Hot Selling
Products
Fruit Tree Netting to Protect Your Fruit Orchard
Find the rights Fruit Netting below for your Orchard; All of our products are provided with up to 5 years warranty.
Fruit Tree Bird Netting is cost-effecitve design. It is durable and suitable for Fruit Tree Bird Protection.  
35g/m2 · 15x15mm
Fruit Tree Insect Netting is the multipurpose and light-weight. Insect & Pest Protection
Special strong selvage. 
80g/m2 · 0.6×0.6mm
Fruit Tree Hail Netting is a special and innovative design. It is an ideal canopy for Bird, Hail Protection Shade Protection
60g/m2 · 8.5×2.5/2mm
Fruit Tree Harvest Net is a Heavy duty innovative design. Strong and Durable Weave mesh, ideal for Fruit Tree Collection.
80g/m2 · 8.5×2.8mm
| | | | | | | | |
| --- | --- | --- | --- | --- | --- | --- | --- |
| ProductNo. | Type | Mesh Size[mm] | Weight[g/m2] | Shading[%] |  Width[m] | UV Warranty                | Ideal for |
| RDBT-60 | Diamond | 15×15 | 35 | 18 | 6  – 8 – 16 – 20 | 3 Year | Cost-Effective | Fruit Tree Bird Protection |
| WSIT-80 | Square | 0.6×0.6 | 80 | 20 | 2  – 3 – 3.6– 5  | 5 Year | Light weight | Fruit tree insect Protection |
| RTHT-60 | Triangle | 8.2×2.5/2 | 60 | 25 |  2 -3 -4 -5 -6 | 5 Year | Multipurpose,Durable | Fruit Tree Hail Protection  |
| RTOT-80 | Triangle | 8.5×1.0/2 | 80 | 35 | 2- 2,5 – 3 – 3,5 – 4 | 5 Year | High Strength | Durable | Fruit tree collection Net |
EyouAgro is a Fruit Tree Netting Manufacturer in China.
We can produce Fruit Tree Netting for birds, squirrels, insects,and so on.
No matter if you are looking for a wholesale supplier or if you need a custom-made fruit netting , we can all help.
Send inquiry to get an instant quote now!
More Netting Fasteners to Support Your Orchards
With the help of unique Plastic Accessories;
The Netting could be easily installed, fastened, and collected.
Try this netting calculator to get an approximate purchase requirements and send an enquiry to me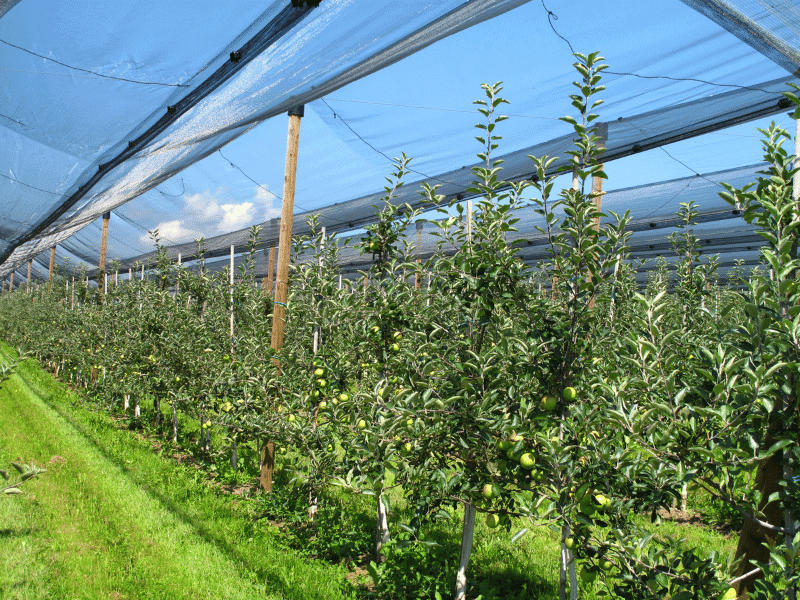 Our Netting Calculator will give you a custom agricultural netting quantity based on the Length & Width & Row of your orchard or vineyard netting project.
I purchased Bird Netting and Hail Netting from EyouAgro so many times, it is very fast shipping, good and accurate product, got them fast and as usual very good condition, all work great, all is great and love these goods. Obviously this is a five star of quality suppliers, we will certainly buy again EyouAgro products, and I wish you the business is thriving!
We are Italy professional raschel netting manufacturer. Few days ago I did an accelerated aging test on plant where I mounted your nettings. The test was very positive and products had worked very well. It is very happy to find EyouAgro company, they give us a very good reputation in our place, and let our customers to enjoy the cheap price with very high quality.
My name is Ms. Svetlana Gogu from Chilean Company. My company mainly operates on Agro Covers. Eyouagro with good quality, fine workmanship and timely reply, and important, cooperate with the Eyouagro without trouble, the sales person always can understand my emails meaning. This feeling makes me good, and comfortable. Thanks.
We received all set of documents a few minutes ago, everything is going smoothly here and hopeful we can have the goods soon at our warehouse. Your service is fantastic as I just place the order on January and the goods arrived so quickly, and you have fixed everything for me!
I like buying from Chinese company like yours.
A Brief
Self-Nomination​,
Why Choose EyouAgro?
Founded in 1996, EyouAgro uses Knitted and Woven technology to design, develop and manufacture Agriculture Protection Textiles.
EyouAgro offers clients a wide choice of standard and customized Polymer Netting for their farm or orchard needs.
Reliable Fruit Tree Netting Supplier in China
Keeping the plants protected from adverse weather conditions!
EyouAgro has a significant Fruit proof netting manufacturing capability.
Certified by ISO9001, REACH, Rohs, SGS certification.
Automated Raschel production line, create over 10,000sqm per day.
Manufacture directly, large scale production and Well trained workers.
Whether you need fruit guard netting or need to custom any netting products.
EyouAgro always satisfies your needs.
Why Fruit Tree Netting is important for you?
Fruit tree netting is important to keep your fruits safe from birds and other pests. Without adequate fruit tree netting, you can lose significant portion of your yield, which reduces your marketable produce and thus your profitability.
How Effective is Fruit Tree Netting?
Fruit tree netting, being a physical barrier, is extremely effective is keeping birds and other garden pests from your fruits.
Fruit tree netting with mesh size greater than 1 cm square is ineffective as bids can pass through this mesh.
Fruit tree netting with mesh size of 10mmx10mm effectively keeps away birds. For protection against small animals, opt for slightly larger mesh size like 15mmx15mm.
What is the impact of Fruit Tree Netting on Fruit Quality?
Birds peck at and eat ripening fruits. When you don't use fruit tree netting at the correct time, a large proportion of your fruit crop may get damaged. This affects your crop quality.
 Fruit growers have observed a significant increase in fruit quality due to use of fruit tree netting. This is backed by study.

How Does Pruning the Trees Affect Installation of Fruit Tree Netting?
Installation of fruit tree netting becomes much easier if you prune your trees. For single pruned fruit trees, fruit tree netting bags can also be used to completely cover the trees. When trees are pruned to optimal height, installation of the fruit tree netting can be handled manually and quickly.
How should you plan installation of the fruit tree netting?
The best time to install fruit tree netting is just when the fruits are beginning to ripen. Birds will begin their visits when the fruits are not yet ripe.
Do not wait for the fruit to ripen completely, as the damage may already be done by then.
Should you keep the Fruit Tree Netting Installed for the entire growing season?
Keeping the fruit netting installed for the entire growing season may actually harm the crop quality.  It is recommended to remove the fruit tree netting after harvest. Keeping the fruit netting on may damage the new fruit growing in the next season.
When should you plan to install fruit tree netting?
It is always best to plan for your fruit tree netting requirements about 6 months in advance.
What are the challenges of Installing Fruit Netting?
It is challenging to install fruit tree netting on bigger trees and complete rows, mainly due to the height of the trees and the area to be covered.
Contact a local fruit tree netting installation company wo can help you with their trained crew and smart netting installation machines.
EyouAGro provides you installation consultation absolutely free as part of our customer service.
What is the Impact of Fruit tree Netting on Crop?
Installation of  fruit netting improves the overall crop yield by significantly reducing yield loss. With timely installation of fruit tree netting, your farm productivity increases along with the profitability.
Does the use of Fruit Tree Netting Affect Pollination?
Fruit tree netting is designed to keep away birds and small animals such as rats, flying foxes and possums. The mesh size in fruit tree netting is too small for birds to get through, but does allow insects likes bees and other pollinating agents.
However, if you wish to prevent cross pollination to produce seedless citrus fruits, it is best to use citrus fruit netting right before the blooming of the flowers.
More
Related
Fruit Tree Netting Supplies
The Smart Way To Protect Your Orchard from Adverse Weather.
Hail Netting for Apple Orchard
Hail netting is a monofilament HD polyethylene that protects plants from hail and different birds. On your plantation, it is practicable to install hail netting for apple orchards. Because during the spring and autumn season, your cultivated plants are at high risk from hailstorms. And everything you have created so far, will not be there anymore. These materials you must apply in your orchards should have these features.
Hail Netting for Auto Dealers
Hail netting for cars is a smart way to protect your car from damages coming from hail. This way, if your car is staying outside in the open space, you will be secure that hailstones will not impair it. Hail nets for auto dealers are widely used because they are obligated to let the cars in the outer spaces. Therefore, hail netting is a must in order to protect the cars staying outside. 
Hail Netting for Vineyards
If you are in the business of vineyards. You already know how damaging hail can be. From small bruises to destroying your vines completely. So, you can not bet your business perspective in weather conditions. Therefore, install anti-hail netting to protect your vineyards from hail. Setting up this system will protect your vine from birds and sunburn too. 
Fruit Tree Netting: The Comprehensive Guide (2021)
Whether you are a backyard fruit grower or have a commercial orchard, you naturally want the 'fruit' of your labor, 100% for yourself. It is really unfortunate if you have to share your fruits with birds and other pests.
Wondering how to keep birds and small animals away from your precious fruits? EyouAgro fruit tree netting is the best answer to that question.
What is Fruit Tree Netting?
Fruit tree netting is a polypropylene covering for your trees made from high density, non-toxic, virgin polymer. The fine mesh on the fruit tree netting prevents birds from accessing your fine fruits and keeps them safe.
Different Types of Fruit Tree Netting
Polypropylene Fruit Tree Netting
Fruit tree netting is composed of light weight, heavy duty polypropylene material. Polypropylene is very strong and is this resistant to tears and pokes by the birds. This is important to prevent entrapment of the birds in the fruit tree netting
Hail Protection Fruit Tree Netting
Hail protection fruit tree netting is comparatively heavier, weighing about 45-50gsm. This type of fruit tree netting has a mesh size of 10x10mm and provides multipurpose protection from birds as well as hail.
Weather Protection Fruit Tree Netting
All types of EyouAgro fruit tree netting have a built in wind break factor. The fruit tree netting can provide protection to your trees to a certain extent in windy conditions.
White Fruit Tree Netting
White fruit tree netting is easily visible to birds and animals, especially at night. White fruit tree netting does a more effective job of protecting your fruits.
Specific Fruit Tree Netting
Fruit tree netting is available specifically for different kinds of fruits. Strawberry fruit netting, mulberry netting, fruit tree netting for apples and peaches are some of the different types of fruit tree netting.
Why is Fruit Tree Netting Important?
Fruit tree netting is an important factor in maintaining the profitability of your orchards. Naturally, you cannot sell half eaten and half pecked fruits. Fruit tree netting ensures 100% protection of your fruits from birds and other pests.
EyouAgro's UV treated fruit tree netting is long lasting. Fold away the netting the after harvest and use the fruit tree netting again in the forthcoming 5-7 seasons. Thus, you get maximum value from your fruit tree netting.
Benefits of Installing Fruit Tree Netting
Fruit Tree Netting Provides Maximum Protection for your Orchard
There are other conventional methods like scary eye balloons, reflective tapes and noise makers to scare birds away from your crops. However, these scare tactics work for a short time, before the birds get wise to them, Fruit tree netting is the only solution that provides maximum protection to your fruits.
Fruit Tree Netting Improves Quality of your Crops
Fruit tree netting meshes allow adequate passage of sunlight to your fruits. Fruit tree netting helps create an optimal microclomate in your orchard or greenhouse by slight increasing the temperature. As a result, plants really thrive, producing high quality crops.
Fruit Tree Netting Keeps your Orchard Beautiful
Fruit tree netting is specifically designed with material and mesh sizes that ensure that birds do not get trapped in the netting. Also the fruit tree netting is absolutely safe and nontoxic.
Thus your orchard remains open to birds, keeping them and your fruits safe. Enjoy your beautiful feathered friends in your garden.
Where is Fruit Tree Netting Used?
Fruit tree netting used extensively in fruit orchards. You can use fruit tree netting for your apple trees, peaches, strawberries and other fruits.
Some vegetable growers successfully use fruit tree netting for their tomato plants and other kitchen plants
How to Choose Fruit Tree Netting
Choose Fruit Tree Netting based on your Need
EyouAgro provides completely customized fruit tree netting to suit your specific local conditions. Depending on your weather conditions, you can choose fruit tree netting with appropriate wind break factors.
Choice of fruit tree netting depends on the kind of birds you are trying to keep away. Small birds like sparrows, robin, need smaller mesh sizes of the fruit tree netting.
Choose Where to buy the Fruit Tree Netting
Fruit tree netting will be readily available in your local hardware store or any store that stocks and supplies gardening material.
An online search is very helpful if you are looking for fruit tree netting in bulk at reasonable prices. EyouGro provides you the best prices and discounts for all your requirements of fruit tree netting.
How to Install Fruit Tree Netting
Installing Fruit Tree Netting Over Low Plants
For low plants like strawberry beds or other shrubs, cover the plants with fruit tree netting. You can buy fruit netting in bulk and cut it to length as per your requirement. Knot the fruit tree netting at the ends and push the end into the ground with nails.
Installing Fruit Tree Netting with a Loop Frame
Place metal bars with wedges at equal interval on either side of the fruit bed.
Bend a 5 feet PVC pipe, creating loop, each end resting on the wedges. You will now have a series on PVC loops across the length of your fruit bed. Next, drape the fruit tree netting taut over the loops. Make sure there is no overhang that may entangle the birds.
Installing Fruit Tree Netting Over a Tree
For installing fruit tree netting over a tree, use a broom or a long pole and gently slide the central part of the fruit tree netting over the tree canopy. Then pull it down from all sides and secure well at the bottom.
Installing Fruit Tree Netting with a Pole Frame
Create a frame structure of four pipes around the tree which you want to protect with fruit tree netting. Drive the poles securely into the soil. Make sure the frames are taller than the tree.
At the top of the tree, again create a structure of 4 poles that would lie horizontally on the existing 4 poles. Secure the poles with each other with proper knotting.
Now you have a robust square frame on which you can comfortably drape the fruit tree netting.
Conclusion
 Management of your orchard is hard work. With all expenses incurred in getting your farm up and running and giving the best care to your crops, it would be a shame if you lost your fruit to birds and other pests.
Make a decision today to protect your fruits in the safest and most effective manner. Use EyouAgro fruit tree netting to cover all your needs by covering your fruits.
Fruit tree netting in an important input for the profitability of your business. Make the right choice now.
Get in touch with us today to know more about fruit tree netting.
Hey, I'm Kevin Lyu, the founder of Eyouagro.com , Family-run business
An expert of agriculture protection textile specialist .
In the past 24 years, we have helped 55 countries and 150+ Clients like farms, orchards , vineyards to protect their plants. The purpose of this article is to share with the knowledge related to agriculture growing protection for making the plant healthier and stronger.
EYOUAGRO Repsects Quality Standards