Prevent crops and plants from hail and birds , increase yield growth and also ensure good light and air transmission
Commercial Best Hail Cloth
The HAIL-PROOF Netting Solution For High-Yield Orchard!
EyouAgro hail cloth is the best and cost-effective technique to protect your crops and plants from hail damage. It can use for the protection of fruits, crops, gardens, and orchards.
Protect from sudden weather changes and protects crops..
Also use it for bird netting, garden netting, and bat netting.
Easy to install, lightweight, and requires less pole for fixing.
High tensile strength and resistance to tearing, and sagging.
Table Of Contents For This Page
To make sure you can find the information you want quickly,
we have prepared this content directory that will jump to the corresponding location when you click on it.
General
Application
For Hail Cloth
Hail Guard Netting has the following wide range of applications , Inquiry us for more solution.
General
Hot Selling
Products
Hail Netting to Protect Your Fruit Orchard
Find the rights Hail Netting below for your Orchard; All of our products are provided with up to 5 years warranty.
Raschel Triangle Hail Netting is cost-effecitve design. It is durable and suitable for Fruit Tree Hail Protection.  
60g/m2 · 8.5×2.5/2mm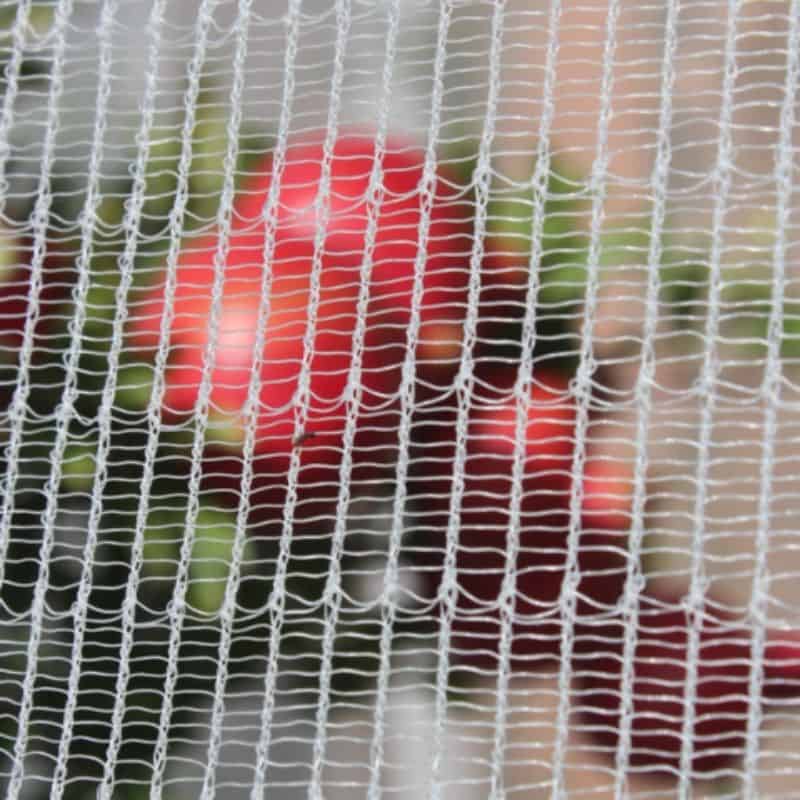 Raschel Drape Hail Netting is the multipurpose and light-weight. Hail & Wasp Protection
Special strong selvage. 
60g/m2 · 4.2×2.0mm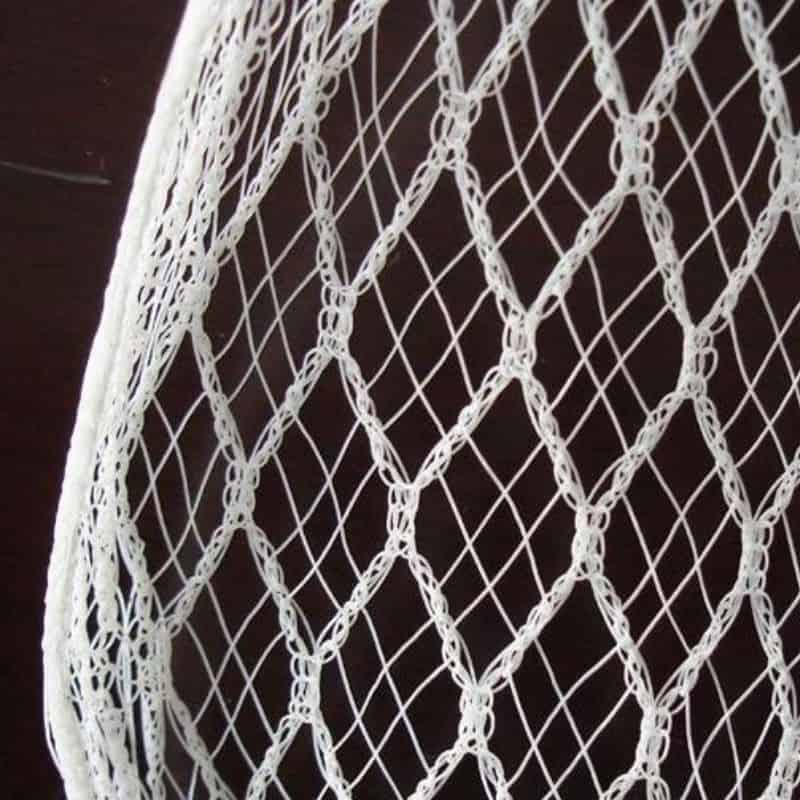 Quad Crossover Hail Netting is a special and innovative design. It is ideal canpoy for Bird , Hail Protection Shade Protection
90g/m2 · 16x16mm
Leno Hail Netting is a Heavy duty innovative design. Strong and Durable Leno Weave mesh, ideal for Hail Netting System
55g/m2 · 8.5×2.8mm
| | | | | | | | |
| --- | --- | --- | --- | --- | --- | --- | --- |
| ProductNo. | Type | Mesh Size[mm] | Weight[g/m2] | Shading[%] |  Width[m] | UV Warranty                | Ideal for |
| RTHT-60 | Triangle | 8.5×2.5/2 | 60 | 18 | 2  – 4 – 4,5 – 5 – 6 | 5 Year | Cost-Effective | Fruit Tree Hail Protection |
| RSHT-60 | Standard | 4.2×2 | 60 | 15 | 2  – 4 – 4,5 – 5 – 6 | 3 Year | Light weight | Low Strength  | Hail & Wasp Protection |
| RQHT-90 | Quad Crossover | 16×16 | 90 | 25 |  4 -8 -10 -12 -18 | 5 Year | Multipurpose,Durable | Bird , Hail Protection Shade Protection | Canopy |
| LNHT-55 | Leno | 8.5×2.8 | 55 | 12 | 2- 2,5 – 3 – 3,5 – 4 | 8 Year | High Strength | Durable | Hail Netting System | Low ourput production ,Long delivery time |
EyouAgro is a Hail Cloth Manufacturer in China.
We can produce Hail Protection Cloth for vineyards, orchards, cars, gardens, auto dealers, plants, fruits, and so on.
No matter if you are looking for a wholesale supplier or if you need a custom-made hail cloth , we can all help.
Send inquiry to get an instant quote now!
More Netting Fasteners to Support Your Orchards
With the help of unique Plastic Accessories;
The Netting could be easily installed, fastened, and collected.
Try this netting calculator to get an approximate purchase requirements and send an enquiry to me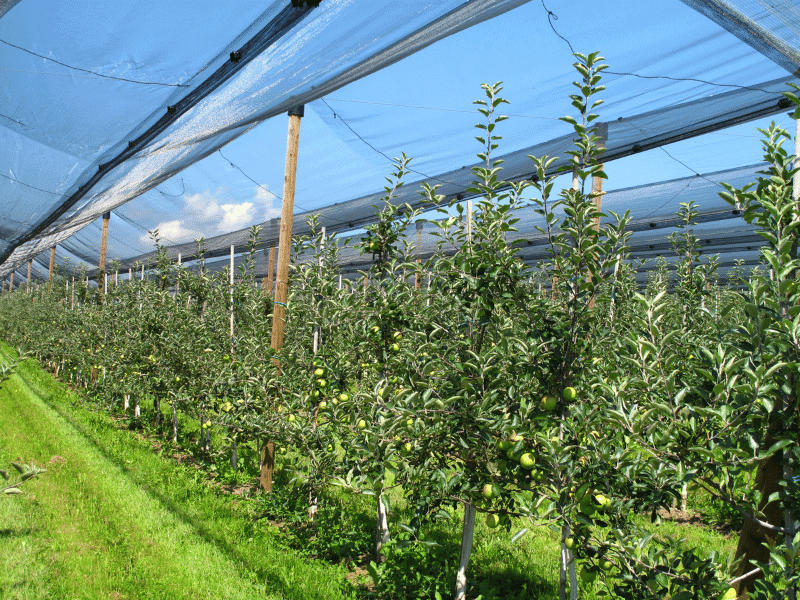 Our Netting Calculator will give you a custom agricultural netting quantity based on the Length & Width & Row of your orchard or vineyard netting project.
I purchased Bird Netting and Hail Netting from EyouAgro so many times, it is very fast shipping, good and accurate product, got them fast and as usual very good condition, all work great, all is great and love these goods.
Obviously this is a five star of quality suppliers, we will certainly buy again EyouAgro products, and I wish you the business is thriving!
We are Italy professional raschel netting manufacturer.
Few days ago I did an accelerated aging test on plant where I mounted your nettings. The test was very positive and products had worked very well.
It is very happy to find EyouAgro company, they give us a very good reputation in our place, and let our customers to enjoy the cheap price with very high quality.
My name is Ms. Svetlana Gogu from Chilean Company. My company mainly operates on Agro Covers. Eyouagro with good quality, fine workmanship and timely reply, and important, cooperate with the Eyouagro without trouble, the sales person always can understand my emails meaning.
This feeling makes me good, and comfortable. Thanks.
We received all set of documents a few minutes ago, everything is going smoothly here and hopeful we can have the goods soon at our warehouse. Your service is fantastic as I just place the order on January and the goods arrived so quickly, and you have fixed everything for me!
I like buying from Chinese company like yours.
A Brief
Self-Nomination​,
Why Choose EyouAgro?
Founded in 1996, EyouAgro uses Knitted and Woven technology to design, develop and manufacture Agriculture Protection Textiles.
EyouAgro offers clients a wide choice of standard and customized Polymer Netting for their farm or orchard needs.
Reliable Hail Cloth Manufacturer in China
Keeping the plants protected from adverse weather conditions!
EyouAgro has a significant Hail Protection cloth manufacturing capability.
Certified by ISO9001, REACH, Rohs, SGS certification.
Automated Raschel production line, create over 10,000sqm per day.
Manufacture directly, large scale production and Well trained workers.
Whether you need Aluminet Shade Cloth or need to custom any netting products.
EyouAgro always satisfies your needs.
Frequently
Asked
Questions
If your question is not listed, please email us right now.
How Long does it take to install Eyouagro Hail cloth?
It is effortless to install, and you can install it without any trouble.  Installation time depends on the size of the area you want to cover.  If you are covering a small patch of land, it will take 15 minutes.
But for long trees and orchards, EyouAgro hail cloth installation requires more time. The use of proper techniques and accessories tools can minimise time and effort.
Is Eyouagro hail cloth scratchable?
No, it doesn't scratch, and even in severe weather conditions, the EyouAgro hail cloth does not move, and you can use it for different applications. It can cover your vehicle or automobile from the severe hail storm.
You can fix it to cover your orchard, garden, and swimming pool, or tennis court to provide complete protection from any weather damage.
For what size of hail I can use Eyouagro hail cloth?
Hail size may be 1 inch or more in diameter. No matter how much the hail size is small or big, the EyouAgro hail cloth is perfectly suitable for all hail sizes.
It provides you with complete protection from hail. You can use EyouAgro hail cloth for maximum results and protection for your crops and plants.
Do I require a structure to install Eyouagro hail cloth?
A structure is necessary to install EyouAgro Hail cloth. It provides hail protection for fruits and crops. It helps support the hail cloth, and you can use wòoden or steel poles for hail cloth structure.
You also can use wires and clips to make a structure and for fixing hail cloth. The structure is necessary for the proper installation of hail cloth. For a small land area, you can use a stake to fix the hail cloth.
How can I get the required measurements?
It is essential to determine the size and length of the hail cloth before purchasing hail cloth. It can save you money and time.
For this purpose, measure the area you want to cover with EyouAgro hail cloth. If you need a hail net or cloth to cover your tree, measure the width and height of a tree.
Add width and height together and multiple by 2. The result will be a minimum length of hail cloth for one side of the square hail cloth.
Width+height x 2=

 

Estimated measurements for one side of the EyouAgro hail cloth
Why I need Eyouagro hail cloth?
It is one of the most effective and economical methods to keep your crops safe from hail damage. EyouAgro Hail cloth is a high UV stabiliser and can protect fruits and crops from hail and frost damage.
It is not easy to grow and plant crops and fruit, so it is critically important to saving them from unexpected damage. The damage you can not measure and can not cease. So choosing hail cloth is your best decision for your crops and fruits.
Which is the best hail cloth for crabapple trees?
You can choose leno weaving hail cloth for the covering of the crabapple tree. It will protect your trees from hail damage. It is the most convenient hail cloth use for lying in the big area and long rows.
You can use EyouAgro leno weaving hail cloth because it has extra strength. It is a UV stabiliser, antioxidant and manufactures high-quality polyethene.
Installing and covering large trees require extra strength and durability. Leno weaving hail cloth can be a good choice for this purpose.
What is the material of Eyouagro hail cloth?
The material used in the manufacturing of hail cloth is HDPE woven with CIB UV stabilisers in ultramodern plants. The use of lockstitch makes hail cloth more durable and practical for use.
| | |
| --- | --- |
| Material | 100% virgin high-density polypropylene |
| Construction | Monofilament raschel knitted |
| UV resistance | 350KLY |
| Warranty | 5 year |
What type of accessories tool I require for fixing Eyouagro hail cloth?
You need various types of accessories to fic hail cloth. It depends on the size and area of land you want to cover. If you have to cover a small land area and plants are small in size, you may require some essential tools and accessories for installing hail cloth. You may require net fastening clips, bungee cord, clips for net connectors, and snake hook for headers.
Why is use hail cloth for my crops?
It would be best if you used hail cloth to protect your crops and garden. Growing crops require work hard, and you have to spend a lot of money for this purpose. So, it's better to use a hail cloth from preventing unexpected hail damage. It will save your work hard and money.
More
Related
Hail Cloth Supplies
The Smart Way To Protect Your Orchard from Adverse Weather.
Hail Cloth for Apple Orchard
HD polyethylene hail cloth protects plants against hail and different types of birds.There is a practical way to install hail cloth in apple orchards on your plantation.Hailstorms are more likely to strike cultivated plants during the spring and autumn season.This means everything you've created, will have been wiped out by the hail. In your orchards, the materials you must use should possess these qualities.
Hail Cloth for Auto Dealers
Protecting your car from hail damage by using a hail cloth is a smart idea. You will be assured that hailstones will not damage your car if it is outside in an open space. Dealers commonly use hail cloths because they are obligated to let cars into outer spaces. Therefore, hail cloth is vital for protecting cars that remain outside.
Hail Protection Cloth for Vineyards
Wine producers already understand how damaging hail can be if they are in the vineyard business.Damage can range from small bruises to complete destruction. You should therefore exercise caution when predicting weather conditions. In order to prevent hail damage to your vineyards, install anti-hail cloth. This system will also protect your vineyards from birds and sunburn.
Hail Cloth:
The Buyer Guide 2021
Hail is a serious concern and can prove devastating for your crops and garden. It can destroy crops, buildings, and living things. Hail protection is essential no matter size of the hail is big or small. Hail gives inevitable loss to your crop, especially in the developing stage of plants.
It is possible to avoid this loss by covering plants with hail cloth. Prevention from hail damage relies on carefully selecting hail cloth and cleaning up the debris, leaves, and stems.
What is Hail Cloth?
Hail cloth is the best approach to protect your plants from hail damage.  It is the best solution for plant protection and can use for many years. It is manufactured with monofilament and polypropylene. It is the latest technology used to control various types of frost, rain, and hail.
You can use hail cloth and netting according to your needs. It also can use as pond netting, bird netting, and garden netting to create the most favorable condition for your crop.
What Are Different Types of Hail Cloth?
Leno Weaving Hail Cloth/ Netting
It is suitable for the low row and equipped with central selvage and lateral. It is a sturdy, durable, and UV stabilizer.
Sawtooth Pattern Hail Cloth
It is a good quality hail cloth made with HDPE, UV stabilizer, and a combination of tape and monofilament. This cloth is lightweight and easy to install.
Cross-Stitched Hail Cloth
Its uses for the areas where you need a flat canopy, and it is easy to install. It is stretchable and catches the hail. This hail cloth is a long-lasting UV stabilizer and has high tensile.
Raschel Hail Cloth
It manufactures with 100%virgin HDPE and UV stabilizer. It has high fraying, sagging, starching, and tearing resistance. It is light weighted, easy to install, and eco-friendly. It is best for the protection from hail rain and violent wind storms.
Quad Crossover Hail Cloth
It is best for permanent structures and provides maximum protection from Bird hail, rain, and severe wind. It has white and Black, and black colors and cannot absorb moisture. It makes with 100%virgin HDPE and is helpful for the reduction of transpiration and evaporation.
Some features of Hail Cloth are as following:
| | | | | | |
| --- | --- | --- | --- | --- | --- |
| type | Size | Weight | Colour | Life | Uv |
| Leno | 7×2.8mm | 50g/m2 | white | 10 year | 5 years |
| Quad crossover | 16x16mm | 90g/m2 | white | 8year | 5 year |
| standard | 8.5x2mm | 50g/m2 | White | 8 year | 5 year |
Why is Hail Cloth Important For Your Crops?
Climate changes and severe weather conditions no doubt can damage your garden and crop. Proper strategies and solutions make to mitigate this risk and loss.
Hail cloth provides you good complete protection and a good investment. It can use year after year, and it can use for bird netting and garden netting. Hail cloth can protect flowers, vegetables, fruits, and crops from rain, hail, snow, and frost.
What Are The Benefits Of Hail Cloth?
It manufactures with HDPE, UV and is available in different colors.
It can increase crop yielding and give protection in small and big hail.
It keeps pest insects and birds away from your crops.
Hail cloth is durable and can stand against severe weather conditions.
It covers well for strawberries, tomatoes, cherry, figs, grapes, caponizes, and other crops and fruit trees.
Hail cloth is easy to adjust, and you can cut it according to your needs.
It needs less supportive poles because of its lightweight.
Where to Use EyouAgro Hail Cloth?
Hail cloth mainly uses for hail protection, but it also provides other additional benefits. It can use for gardens, orchards, vineyard crops, and playgrounds. It also can use as an alternative for bird cloth and shade cloth. You can use hail cloth for the protection of your property and vehicle.
How to Install The Hail Cloth?
You can easily install hail cloth to protect your plants from sudden hail and weather effects by creating a durable hail cloth structure over your plants. It may be an umbrella shape if your plot is small. You can set it with sticks to support the hail cloth from the sides.
For covering a large area or plants, you need a robust structure or tunnel to install a hail cloth. You need some hail cloth accessories for this purpose, and they will anchor the fabric from all sides for good installation.
What Are The Essential Installation Accessories For Hail Cloth?
Some of the essential accessories for hail cloth are:
Hail Cloth Pole Caps
Hail cloth pole caps provide the best solution for installation, and they primarily design for the protection of steel, wooden or concrete poles from damage. It has high resistance to UV rays, mechanical influences, and weathering. It manufactures high-quality polyethylene and is available in different sizes.
Caps for concrete pole

Caps for wooden pole

Caps for a metal pole

Length  from 115 to 180 m

Rope fixing kit included

Metal wires strong  assurance

 

Best for the lateral poles

Available in different colours

Suitable for any type of net
Hooks for Hail Cloth
These hooks are in S and O shapes. With these hooks, fixings and reinstalling of hail cloth become easy. These hooks manufacture from lightweight and UV stabilizer plastic. When you use an easy kit, you get the maximum results. They are durable and can use for several years.
| | | |
| --- | --- | --- |
|   | S hooks | O hooks |
| Size | 41x55mm | 35x55mm |
| Weight | 7.0grm/pcs | 5.0grm/pcs |
| Colour | Black | Black |
EyouAgro Hail Cloth Accessories
You need different tools and accessories for the proper fixing and installation of hail cloth. The use of accessories makes your work easy and fast. Some essential accessories you require are:
Net fastening clip
Polyester monofilament wire
Ground cover pegs
Warranty
Customer satisfaction is the priority of EyouAgro. You can get a warranty on purchasing products. It can be 5 to 8 years, depending on the type of purchased product. Our guarantee makes you sure that our products are high-quality and have no compromise on quality products.
For further information, you can contact us.
How to Choose Hail Cloth?
Many supplier companies provide hail, but it is not easy to choose the best hail cloth for your project. The hail cloth should be according to your needs and can fulfill all your requirements of yours. Try to find a trusted and verified wholesaler supplier that can meet all your expectations.
Your selected company should have much experience in the net industry and don't compromise on quality. Some small and newly hail cloth manufacturing companies are providing cheap quality hail cloth in the market. EyouAgro is a company with all the qualities mentioned above.
You can trust EyouAgro for purchasing hail cloth or in a small quantity, or you need in the bulk quantity you find them one of the world's best suppliers.
Conclusion
EyouAgro is a China-based wholesale company that provides durable, safe, and effective crop production material and methods. We are the trusted and professional hail cloth/ net supplier you can rely on.
You can get the core benefits such as sustainable solutions, less use of chemicals and pesticides, and protection from climate change. EyouAgro's goal is to keep customers satisfied and provide you with consistent super-quality products.
Hey, I'm Kevin Lyu, the founder of Eyouagro.com. Family-run business.
An expert of agriculture protection textile specialist .
In the past 24 years, we have helped 55 countries and 150+ Clients like farms, orchards , vineyards to protect their plants. The purpose of this article is to share with the knowledge related to agriculture growing protection for making the plant healthier and stronger.
EYOUAGRO Repsects Quality Standards