Shade Cloth – what's that? If you're not a gardener or grower, you may have never heard of shade cloth before.
But don't worry, if you haven't heard of it; you're probably not alone! After reading this article, you will know everything about shade cloth.
There are 6 kinds of shade cloths available in the market.
Let's dive right in.
2 Shade Net Types – You Need to Know
Shade cloth is made of various materials, but there are two types:
Canvas shade cloth
Plastic shade cloth
Canvas shade cloth uses polyester as its raw material, while plastic shade cloth uses polyethylene (HDPE) as the raw material. Both have their advantages and disadvantages.
Canvas shade cloth can resist water and absorb sunlight. Plastic, durable shade fabric is made from polyethylene (HDPE), which has better breathability and anti UV rays ability.
Canva Shade Cloth is not very popular because its disadvantage is that it is airtight.
HDPE Shade Cloth has become the mainstream Shade Cloth Material in the market because of its breathability, which can effectively reduce the temperature of the cover.
The focus of this article is also on HDPE Shade Cloth.
HDPE Shade Net can be divided into woven shade cloth, and Raschel knitted shade cloth according to its structure.
What is Rachel Knitted Shade Cloth?
Raschel Knitted Shade Net is the sunshade net woven with the Raschel warp knitting machine. Its weaving structure is shown in the following figure.
What is Woven Shade Cloth?
Woven Shade Netting is woven using a Sulzer machine. The intersection of two sets of straight yarns, warp, and weft, which cross and interlace at right angles to each other. The lengthwise yarns are known as warp yarns and width-wise yarns are known as weft or filling yarns, and the fabric produced is known as woven fabric.
Raschel Knitted Shade Cloth Vs. Woven Shade Cloth
The Raschel knitting method makes the shade net appear soft and fluffy, with a rougher look, high breathability, and high strength, which makes it easier for heat to dissipate. It is a good choice as tree shade cloth and shade cloth for plants.
The weaving method of Shade Net is similar to weaving fabrics, so it has a good visual effect, but it is difficult to weave fine mesh and has little ventilation effect; therefore, it is not suitable for protecting plants and trees in the farm.
In addition, Raschel Knitted Shade Cloth has some advantages over Woven Shade Cloth:
The density of Raschel Knitted Shade Cloth can reach up to 100%. It can be used as a shading cloth or light-filtering cloth according to its density;
Raschel Knitted Shade Cloth can be used for any purpose because of its simple construction;
The shade cloth made by Raschel Knitting Method is more durable than woven shade cloth;
The shade fabric made by the Raschel knitting method has better ventilation performance than woven shade cloth.
6 Kinds of Shade Cloth – You Must Know
Shade cloth is one of the most important factors in protecting plants from the sun.
Shade cloth is a lightweight, fabric-like material that protects plants and crops from harmful ultraviolet rays. It's also used to prevent soil erosion, reduce evaporation and cool down the temperature of the soil.
There are various types available on the market today, such as black shade cloth, white shade cloth, reflective shade cloth, and more.
Here's a list of six kinds of shade cloth you should know about:
Monofilament Raschel Shade Cloth, also known as Mono Shade Net, is a highly robust shade fabric designed to withstand even the harshest conditions. Constructed using monofilament yarn and Raschel Knitted technology, this shade net offers exceptional durability and versatility.
Ideal for various applications, Mono Shade Net provides reliable protection for your crops, shielding them from extreme weather conditions and ensuring their optimal growth. Moreover, its resilient composition allows it to serve as a dependable security fence, a safety screen, or a containment solution for livestock.
With an impressive average service life of 7 to 10 years, this shade cloth is a long-lasting investment, providing ongoing support and protection for your agricultural endeavors or other intended uses.
Here are several common types of Monofilament Raschel Shade Cloth
Product No.
Weight [g/m2]
Shading
Size[m]
UV Warranty
Ideal for
Light | Mono.40%
110
40%
4x100m;
5x100m
8 Years
Greenhouse
Medium | Mono. 60%
145
60%
4x100m;
5x100m
8 Years
Flower Market
Heavy | Mono. 80%
160
80%
4x100m;
5x100m
8 Years
Livestocks
Tape Knitted Shade Cloth is crafted using tape yarn, resulting in a denser surface texture. This unique construction offers enhanced shading capabilities compared to monofilament shade cloth, boasting a higher shade rate and lower gsm (grams per square meter).
With a range of color options available, from black to white, tape shade cloth presents versatility in its application. It proves invaluable for multiple purposes, such as shading fruit trees and safeguarding crops against the detrimental effects of summer heat stress. Furthermore, the shade cloth actively assists in maintaining cooler soil temperatures during hot months.

Here are several common types of Tape Raschel Shade Cloth
Product No.
Weight [g/m2]
Shading Rate
Size[m]
UV Warranty
Ideal for
Tape 30
35
30%
2x100m;
4x100m
3 Years
Roses, Strawberries, Gooseberries, Tomatoes, Peppers
Tape 50
55
50%
2x100m;
4x100m
3 Years
Foliage plants, Cut greens, Orchids, Ginger, Pot plants
Tape 70
85
70%
2x100m;
4x100m
3 Years
Ferns, Orchids ( Cypripediums), Philodendron, Succulents
Tape 90
130
90%
2x100m;
4x100m
3 Years
Cattle shed, Poultry houses, and vehicular shades
The fusion of monofilament and tape knitted shade cloth incorporates the best features of both materials, resulting in a shade fabric with superior shading capabilities and exceptional durability. This combination of warp monofilament yarns and weft tape yarns has gained significant popularity as the go-to option for garden shade netting in contemporary times.
Not only does it deliver excellent shade coverage, but it also proves to be highly cost-effective and user-friendly. Its widespread usage can be attributed to its affordability and straightforward application, making it a preferred choice for many garden enthusiasts.
Here are several common types of Monofilament + Tape Raschel Shade Cloth
Product No.
Weight[g/m2]
UV Block
Size [m]
UV Warranty
Ideal for
Garden Cover 50%
120
50%
1.83x50m;
3.66x50m
5 Years
Seedings & Plants, Shade House
Screening 70%
160
70%
1.83x50m;
3.66x50m
5 Years
Privacy Screening, Wind Break , Vehicle Protection
People Cover 90+%
190
90%+
1.83x50m;
3.66x50m
8 Years
Privacy Screening, Wind Break, Vehicle Protection
Woven Shade Cloth is meticulously crafted from polyethylene material through a weaving process. It serves as an effective shield against sunlight, heat, and pests, making it a popular choice for safeguarding crops and vegetables.
Utilizing Sulzer machines, Woven Shade Cloth can be woven using one or multiple warp threads and weft tapes. This weaving technique results in the formation of horizontal and vertical grid lines, which play a crucial role in minimizing the detrimental effects of UV rays. Furthermore, the specialized weaving technology ensures that the fabric remains relatively thin while maintaining a high shading rate, setting it apart from knitted shade cloth.

Here are several common types of Woven Shade Cloth
| | | | | | |
| --- | --- | --- | --- | --- | --- |
| Product No. | Weight [g/m2] | Shading Rate | Color | Size [m] | UV Warranty |
| Plain 40% | 50 | 40% | Green, White, and Black | (1.0-5.0)x100m | 3 Years |
| Plain 80% | 90 | 80% | Green, White, and Black | (1.0-5.0)x100m | 3 Years |
| Plain 95% | 140 | 95% | Green, White, and Black | (1.0-5.0)x100m | 3 Years |
Aluminet Thermal Reflective Shade Screen, also known as Aluminet Shade Cloth or Reflective Shade Cloth, presents an innovative solution for managing climate and providing screen coverage in greenhouse environments.
Crafted precisely, this shade cloth is woven using top-quality Aluminum composite foil and high-strength Anti-UV polyethylene monofilament fiber. Aluminet serves multiple essential functions within your greenhouse, including providing cool shade, conserving water, preserving heat, and insulating the space while preventing condensation dripping.
Aluminet shade cloth comes in two distinctive structures: Sealed Braided Structure Aluminet and Open Structure. The Sealed Structure maximizes the shading effect, effectively reducing the temperature inside the greenhouse. On the other hand, the Open Structure design allows for proper airflow even while providing shading.
By offering uniform shadow distribution, controlling air movement, and optimizing diffused light transmission to the crops, Aluminet Shade Cloth creates an ideal environment for microclimate control in greenhouses and nurseries. Its versatility extends to application in tunnels, horticultural greenhouses, and outdoor spaces under frameworks.
Notable advantages of Aluminet Shade Cloth include its lightweight nature, being 20-25% lighter compared to traditional black shade cloth. Additionally, it boasts impressive longevity as it is resistant to oxidation and UV rays, ensuring its durability.
Here are several common types of Aluminet Shade Cloth
| | |
| --- | --- |
| Density | Name of Plants |
| 30% | Roses, Strawberries, Gooseberries, Tomatoes, Cucumber |
| 40% | Ferns, Orchids ( Cypripediums), Philodendrons |
| 50% | Foliage plants, Cut greens, Orchids, Ginger, Pot plants |
| 60% | Orchlds ( Oncidiums, Phalaenopsis ) |
| 70% | Ferns , Orchids ( Cypripediums), Philodendrons |
| 80% | Indoor plants, Certain Orchids, Plantation crops, Tea, Coffee, Cardamom |
| 90% | Cattle shed Poultry houses, Construction Scaffolding and vehicular shades |
Black and White Shading Screens (BWS) are specifically crafted using specialized polymer materials and high-strength anti-ultraviolet monofilament fiber. These screens serve as efficient temperature regulators within greenhouses, catering to the precise growth requirements of plants. Often employed as sunshade curtains, they offer a range of benefits.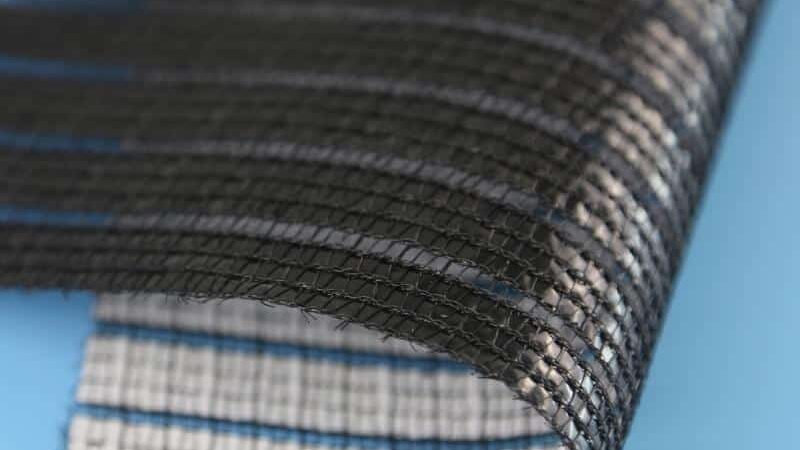 The primary function of black and white shading screens is to provide solar reflection, effectively reducing heat loss from both the greenhouse and the plants during nighttime.
During daylight hours, the white face of the screen reflects solar radiation, aiding in maintaining a cool environment. Conversely, the black face of the screen absorbs excess heat during nighttime, mitigating the risk of frost damage.
By employing black and white shading screens, greenhouse operators can effectively manage temperature fluctuations, ensuring optimal growing conditions for their plants. These screens are vital in maintaining a balanced and conducive environment for successful cultivation.
Comparison of the Shade Net Products – You Are Interested In
White Shade Cloth Vs. Black Shade Cloth
White and black shading cloths are common shade cloth colors used in the horticultural industry to provide plant shading. Both fabrics help protect plants from pests and disease or keep them cool in warmer weather. Black and white shade cloth are the two main types available, but which one is best for you?

White shade cloth is a great option if you're looking to create a cooler environment for your plants. White shade fabric reflects light, so it can reflect heat away from your plants and keep them cooler.
Black shade cloth is your best bet if you're looking to block excess light and keep the temperature down at night. Black absorbs light while also blocking light from reaching plants, which helps keep them cool during the day and warm at night.
Aluminet vs. Shade Cloth
Shade cloth and Aluminet are both used for a variety of purposes, including the cooling of buildings. While both can cool a building well, they differ in technology, material, and performance.
Shade cloth uses special Raschel knitted machines to form high-density polyethylene knitted meshes with a certain mesh size. The black shade netting can absorb heat, which is good for cooling buildings in hot weather.
Aluminet is made using special extrusion machines to produce aluminum foil into a flat shape with a certain thickness and then weave it into a fabric called Aluminet shade cloth with a certain mesh size.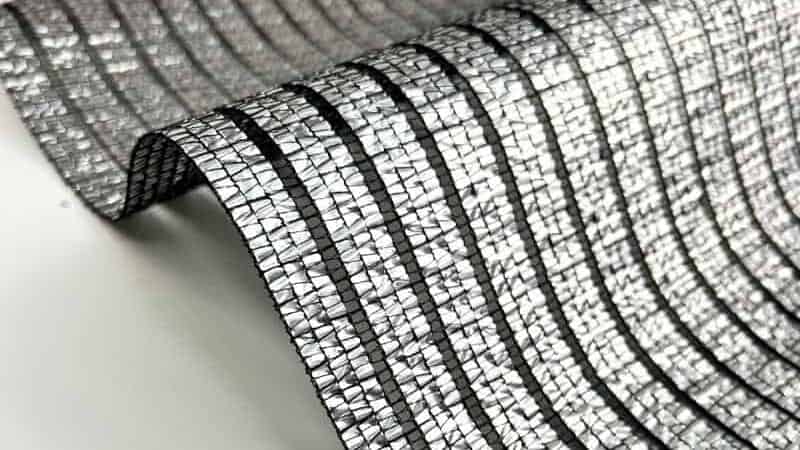 In this way, it effectively reduces air temperature in a building during summer days and helps reduce energy consumption during winter nights (Aluminet).
How to Choose the Best Shade Net For You?
Shade netting is the perfect solution for covering outdoor space, from a simple pergola to a large patio.
But how do you choose the right shade net for your needs? Here are some tips for picking out the perfect shade net:
Selection of Shade Net for Different Applications
Agro Shade Netting and Farming Shade Net
Agro shade netting is a great way to keep crops cool and protected from the sun. The shade netting can help reduce the temperature of your crops by as much as 8-10 degrees. This will allow you to grow more plants and harvest them sooner.
Agro shade netting is also great for protecting trees from frost damage in areas with cold winters.
For agricultural growers, the choice of shade netting takes into account 3 main factors:
Moderate Durability
Economic
Suitable Shading Ratio
A shade net that meets this requirement, Raschel Tape Black Shade Cloth, is the best option. Tape Black Shade Cloth is often designed with lightweight fabric that is easy to handle, and the same shade rate keeps costs low so that you can get the most suitable shade netting for the lowest budget. It should be noted that Tape shade cloths do not offer super longevity due to their lightweight nature. The usual life expectancy is 2-3 years.
Livestock Shade Cloth
Livestock Shade Cloth is a necessary part of any livestock operation. It protects animals from the sun, and it helps to maintain the temperature of their environment. Livestock shade cloth can protect sheep, goats, horses, and other animals. When choosing a shade cloth for your livestock operation, you must consider many factors.
For the shading needs of the livestock industry, the choice of shade netting takes into account two main factors
– High durability
– High tensile strength
– Heavy-duty
The Raschel Monofilament Shade Cloth is the best choice for meeting this requirement. That's because of mono. Shade cloth is designed to be heavy-duty.
This makes it more durable and resists more heat than its lighter counterpart. The heavier fabric also makes it more resistant to tearing if snagged by an animal or piece of equipment. Heavy-duty shade cloth is ideal for use around large areas like pastures or fields where your animals wander freely throughout the day without shelter from the sun or rain. The typical service life is about 8 years.
Livestock Shade Cloth is made from high-quality polyethylene monofilament and has an 8-year lifespan. It's also UV light resistant and provides excellent heat protection, so it's perfect for your farm animals in the summer months!
Garden and Patio Shade Cloth
Patio shade cloth is a great way to block harmful UV rays from your patio, deck, or backyard. It can be used in a variety of ways, including:
-Creating an outdoor canopy that blocks the sun and lets you enjoy your backyard even during the hottest summer days.
-Adding privacy on your deck or patio to have more intimate meals with friends and family.
-Screening off an area that needs protection from pests like birds or squirrels.
For the shading needs of a garden or patio, the following factors are considered in the selection of shading nets.
The good decorative effect, many colors available
High shading rate 90-95%
Heavy-duty
Raschel Monofilament and Tape shade cloth is the best choice of shade netting for this requirement. This is because the monofilament one offers heavy-duty, and the Tape one offers high shade, a perfect combination of shade for the patio and durability.
Multiple choices of shade cloth color to decorate your garden and add to the fun.
As a bonus, it comes in an array of colors that are not only beautiful but also help to cut down on glare. Whether you're trying to create a more comfortable environment or want privacy, patio shade cloth is a great choice!
We offer a wide range of colored shade cloth: from yellow light to dark brown, and everything in between. We also have a high shading rate so that you can enjoy your outdoor space even when it's really hot outside.
And if you're looking for something with more pizzazz than plain old white or black? We've got that, too—our selection includes bright colors like red and blue, as well as patterns like stripes.
Greenhouse Shade Cloth
Greenhouse shade cloth is an excellent way to protect your plants from heat, frost, and wind. It can also help keep out insects like flies and mosquitoes.
Greenhouse shade cloth is an essential part of your greenhouse. It protects your plants from harsh sunlight, wind damage, and pests. You'll also want to use it on cool days to keep your greenhouse warm without turning on the heater.
General greenhouse: For normal greenhouses, EyouAgro offers different types of shade netting due to the different shading requirements of the plants, and in view of the best shade cloth greenhouse installation, monofilament shade cloth is usually used.
Advanced greenhouse: Advanced greenhouses are mainly used to grow high-value cash crops, such as premium flowers, which require more precise control of the incoming light and heat. This requires the use of Aluminet Shade Cloth.Aluminet shade cloth is the best choice for advanced greenhouses. Aluminet shade cloth is a must-have for any greenhouse that needs to be warmed up and cooled off quickly or needs to have light control options during the day. It's also great for use on hanging structures like hoop houses, where you might need to protect your plants from the wind and the sun.
How to Install or Hang Shade Cloth?
Once you've decided to hang shade cloth on your garden or patio, you'll need to know how to install it.
There are several different options for installing the cloth, and they all have pros and cons. Shade cloth is a heavy fabric that can easily be damaged by wind or water, so it's best to use an installation method to keep it in place without causing damage to the fabric.
When it comes to shade cloth installation, there are several different options. You can choose from Shade Cloth with grommets, Shade Cloth with eyelets, or Shade Cloth clips.
Shade cloth clips
The most common hanging method is with clips, which are simple to install and remove. You can attach the clip directly to the shade cloth, or you can use a longer piece of wire and attach that to the clip before attaching it to the cloth.
2. Shade cloth with grommets
Shade cloth with grommets works well for hanging but is more expensive than clips. This shade cloth has small metal loops spaced along its edges and has holes pre-punched into it; you can run the rope through them and tie it down securely.
So all you have to do is push it through a hole in your frame or other support structure. Grommets are typically spaced about three inches apart along each edge.
3. Shade cloth with eyelets
This type comes with small holes at regular intervals along its edges so you can run wire through them and then attach it. They are woven by machine along with the shade cloth. Compared to a grommet, the cost of this is lower.
List of Shade Cloth Installation Accessories
Shade cloth accessories are the small parts you need to install your shade cloth. They include clips, grommets, and other hardware you might need.
Shade cloth accessories include commercial-grade fasteners, anchors and tie-downs, clips and hooks, and more.
These accessories help you easily install or repair your shade cloth. They're made from high-quality materials that last for years with proper care.
Whether you're installing a shade cloth on your patio or in your backyard, we've got what you need to get the job done right.
Here is the list of shade cloth accessories:
When you're looking for shade cloth suppliers, it's important to choose a company that has a track record of excellence and experience in the field. Shade cloth suppliers can help you find the materials you need for your project, and they'll also be able to advise you on how to use them best.
We've researched for you and compiled a list of the top 10 shade cloth suppliers in China.
Top 10 Shade Cloth Suppliers in China
Shade cloths are a simple but effective way to protect your plants from the sun. They can be used to protect against frost, wind, and heat. Shade cloths also help keep soil temperatures cool and prevent water evaporation. They can be used to create permanent shade structures that keep plants cool in summer and warm in winter, or they can be used temporarily.
The best shade cloth suppliers in China can help you find the right materials for your project.
Here are our top 10:
| | | | | |
| --- | --- | --- | --- | --- |
| No. | Company Name | Year Established | Location(City) | Employee |
| 1 | Joyeyou Industry (EyouAgro) | 1996 | Shanghai | 80 |
| 2 | Hefei Grand Nets | 2008 | Hefei, Anhui | 25 |
| 3 | Changzhou Yafeir Nets Industry | 2012 | Changzhou, Jiangsu | 95 |
| 4 | Naite Rope Net Company | 2010 | Bin Zhou, Shangdong | 39 |
| 5 | Shengzhou Luyuan Plastic Netting | 2000 | Shengzhou, Zhejiang | 76 |
| 5 | Anhui Field Net Industry | 2017 | Hefei, Anhui | 24 |
| 6 | Shengzhou Deli Plastic Netting | 2004 | Shengzhou, Zhejiang | 50 |
| 7 | Zhifang Net Industry | 2015 | Guanghan, Sichuan | 60 |
| 8 | Tianyi Netting | 2008 | Putian, Fujian | <50 |
| 9 | Yiwu Huifang Material | 2022 | Yiwu, Jinhua | <100 |
| 10 | HUA CHANG Yarns & Fabrics | 2001 | Xi'an | 40 |
Shade netting protects plants, livestock, and other animals from the harmful effects of the sun's rays. To get a quality shade net in China, check out EyouAgro from Joyeyou. You can order shade nets from the company by filling out this form or emailing it.
Which Kind of Shade Cloth Rate is Best for You?
Getting the right shade cloth for your needs is the key to having a successful garden.
There are many different types of shade cloth, but there are also many different uses.
For example, you may want to use them to reduce sunlight from reaching your plants or to protect young plants from pests. You could also use them to keep birds out of your garden or cold air out during the winter months.
The type of shade cloth that you choose depends on what your needs are and what kind of plants you want to grow. There are many different kinds available, so let's take a look at some of the most popular ones below:
Recommended Shading Percentage for Choice of Shade Cloth
What percentage of shade cloth is recommended?
The best way to figure out what shading ratio you need is by using a sun calculator. It will tell you how much light your crops will be receiving and whether or not they need more protection from direct sunlight.
The table below provides recommended shading ratios for various types of shade cloth.
The table is based on the different levels of light transmission and light blockage each shade cloth has as it relates to the percentage of visible light that passes through a given area.
| | |
| --- | --- |
| Shading | Name of Plants |
| 30% | Roses, Strawberries, Gooseberries, Tomatoes, Cucumber, Peppers |
| 40% | Bedding Plants, Gloxinias, Herbs, Iris, Lilies, Vegetables |
| 50% | Foliage plants, Cut greens, Orchids, Ginger, Pot plants |
| 60% | Orchids ( Oncidiums, Phalaenopsis ), Lettuces |
| 70% | Ferns, Orchids ( Cypripediums), Philodendron, Succulents |
| 80% | Indoor plants, Certain Orchids, Plantation crops, Tea, Coffee, Cardamom |
| 90% | Cattle sheds, Poultry houses, Construction Scaffolding, and vehicular shades |
Best Percentage of Shade Cloth
1. Best Shade Cloth for Tomato plants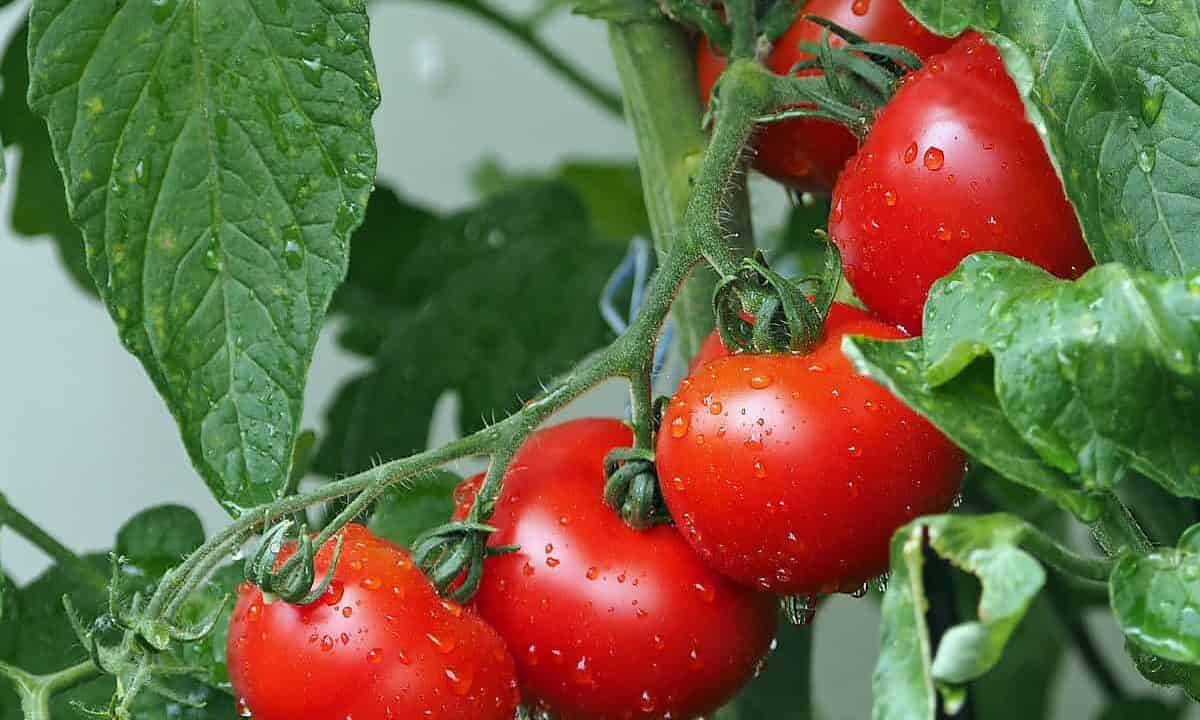 Tomatoes are more heat-tolerant plants. But too much sunlight and heat is also harmful. If there's too much sun exposure, the tomatoes will ripen unevenly and may develop cracks or split on the skin. This can also lead to blossom end rot (BER), which causes black spots on the bottom of the tomatoes.
So how much shade should you give your tomatoes?
The best shade percentage for tomatoes is 30-50%.
According to Purdue University, 35% shading is ideal for tomatoes
This means that you should put up some shade cloth or fence around each plant so that only 65% of its leaves are exposed to sunlight at any given time during the day (morning sun exposure is okay).
Other heat-tolerant vegetables, like eggplants and pepper, also do well under 30% shade cloth.
2. Best plants Shade Cloth for Lettuce
Lettuce is a kind of shade-loving plant because too high a temperature can inhibit lettuce growth.
The best shade cloth for lettuce is 60% shading. This means the cloth will block off 60% of the light, leaving 40% in.
Darker-leaf vegetables prefer this level of shade rate. It's important to have some light on your lettuce to grow properly, but you don't want too much sunlight, either—too much sunlight can cause sunburn on your lettuce leaves and make them taste bitter.
3. Best Shade Cloth for Succulents
The best shade cloth for succulents is 30-60% shading. This is because it provides a nice balance between allowing enough sunlight in to keep the plants happy and still providing an adequate amount of shade to prevent overheating. Succulents also need to be kept out of the direct sun during the hottest part of the day, so if you're looking for a good option for outdoor use, this is a great choice.
4. Best Fabric for Pergola Shade
The best garden shade cloth for pergolas are the ones that offer 90% shading. This means that a 90% shading pergola (higher percentage shade cloth) will be able to block out 90% of the sunlight. If you want to know what this looks like, imagine being in a room where the sun shines brightly through the windows. You will still be able to see some light coming through, but it is going to be slight and not nearly as bright as it would be if you were outside without any shade at all.
5. Best Shade Cloth for Greenhouse
The best shade cloth for your greenhouse depends on a few things: the climate you're in, and how much light you want to block out.
If you live in a hot area and are looking for something that will help keep your plants cool and shaded throughout the day, Aluminet shade cloth is your best bet. This type of shade cloth will reflect heat away from your plants, keeping them cooler and preventing them from drying out.
If you want to keep some light coming through so that your plants can still photosynthesize, but also want to block out some of the sunlight, then a lighter shade cloth like an Aluminet or tape would be better suited for your needs. This way, your plants will still get enough light to stay healthy while also getting protection from too much sun exposure.
6. Best Shade Cloth for Peppers
A study by the University of Florida found that 30% shade cloth was the most effective **in maintaining pepper yields and quality. The researchers found that 30% shade cloth provided the best sun protection while allowing enough light to keep plants healthy.
Which Color of Shade Cloth is best for you?
The color shade cloth you choose will depend on what you're doing with your plants. If you're trying to protect them from damage, or if you want to help them thrive in an environment where they'd otherwise struggle, the right shade of cloth can make all the difference.
Here's a quick look at some of the best shade fabric colors for different purposes.
White Shade Cloth
White shade cloth works well in areas that are cooler and have more shade throughout the day. This type of shade cloth will help to reflect heat and keep your plants cool. It's also good for areas with less humidity because the white color will help reflect sunlight and reduce water loss by evaporation. It works well for covering decks and patios, as well as for shading fruit trees.
However, it can get dirty easily, so it may need to be washed more often than other options.
Black Shade Cloth
Black shade netting is an effective way to keep plants cool in the summer months and protect them from sun damage. It's also great at keeping pests away from your garden because they can't see through it!
Black shade netting is best suited for areas with lots of sunlight and no shading at all. Since black absorbs heat instead of reflecting it as white does, this type of shade cloth will help keep plants cool in direct sunlight as well as prevent them from drying out too quickly if there isn't much humidity in the air (which can happen when there is a lot of strong sunshine).
Green Shade cloth
Green shade netting can be used for decorative purposes or to provide a little privacy between spaces like patios or gardens.
Green shade net is probably one of the most popular fabric colors—it looks nice on houses and keeps pests away while still allowing some sunlight so flowering plants can grow healthy and strong without getting burned by too much direct sunlight!
Blue Shade Cloth
Blue-shade cloth is a great choice if you want something to stand out. It's perfect for an event or a place where people will be looking at it from a distance so that it can be seen from far away.
Red Shade Cloth
Red shade cloth is another popular choice because of its ability to draw attention.
Another unexpected effect of the red sunshade is its light-selective effect. Using a red sunshade net increases the red light. For some fruit growing, like cherry, grape, and apple, that requires bright color, it increases anthocyanins in the plant, which promotes red color formation, which will boost their economic value.
Silver Shade Cloth
Silver shade cloth has a reflective surface that reflects up to 99% of sunlight away from the plants underneath it. This means that it can be used to protect delicate plants such as seedlings or newly-planted seedlings from sunburn damage during their first few weeks after transplanting into their final growing location (or even longer if necessary).
In addition to a good shading effect, Aluminet shade cloth also has a good thermal effect and light emission effect, which can make the light evenly distributed around the plants and promote the growth of plants in hidden areas.
Beige Shade Cloth
Shade cloth in beige is the perfect product for any garden or home. It's a neutral color can blend seamlessly into any landscape and look beautiful as part of your outdoor decor. Plus, it matches almost every other color, so if you want to change things up later on down the road, it'll be easy to find something that matches!
FAQs for Shade Cloth
How about the shade cloth lifespan? How long does shade cloth last?
The lifespan of a shade cloth depends on several factors, including the material and weave of the cloth, as well as how much direct sunlight it receives.
Some types of shade cloth can last up to 8 years, while others may only last five years.
The lifespan of your shade cloth will depend largely on how often it is used and what type of weather conditions you live in.
2. If I import, what is the shade net HS code?
The HS Code for shade netting is 5608190000.
Shade netting is a kind of screen, but not just any screen—designed to keep the sun out.
It's made of plastic mesh, and it's used in agriculture, horticulture, landscaping, and other outdoor environments where you want to protect plants from sun exposure.
3. How much does shade cloth lower temperature?
Shade cloth is the go-to way to reduce the temperature of your greenhouse.
Some studies show that:
Aluminet shade cloth is made from aluminum mesh and reflects up to 90% of incoming sunlight. With this shade cloth, you can expect temperatures to drop by 8-10 degrees Fahrenheit in your greenhouse.
Normal shade cloth doesn't have the same reflective properties as Aluminet, but it's still effective at lowering temperatures in your garden by 5-7 degrees Fahrenheit.
4. What is PE mesh cloth?
PE mesh cloth, or polyethylene mesh/ plastic shade cloth, is a lightweight and durable fabric made from polyethylene fibers. It is often used in various applications, including filtering, straining, sifting, and separating materials.
PE mesh cloth is known for its strength, versatility, and resistance to wear and tear, making it a popular choice for use in various industries, including agriculture, construction, and manufacturing.
Conclusion
Here, we briefly present six kinds of shade cloths on the market.
Shade cloths are available in different materials and colors based on your needs.
These fabrics play a role in protecting your plants, providing restraint against high winds, and offering comfort to your prized blooms.
The right type of shade cloth can protect your green thumb and hard work against flowers that are damaged by excessive heat or extreme weather conditions.
EyouAgro a high-quality Shade cloth supplier- provides shade for livestock & poultry, flower gardens, and greenhouses. Not only does it provide protection from the sun, but it also helps to decrease wind speeds, reduce rain splash, and retain up to 50% moisture in the soil.
As a shade cloth manufacturer, EyouAgro specializes in producing various agricultural protective nets and accessories.
If you have any purchasing needs or questions, please do not hesitate to contact us!