Protect your cultivation from insects as well as the butterfly
Commercial Cabbage Netting
The PEST-PROOF Netting Solution For High-Yield Field!
EyouAgro Cabbage netting is also known as cabbage butterfly netting or cabbage moth netting. It is a great way to keep out pesky pests looking for something tasty to munch on. 
Made with UV-resistant substances for giving a long shelf life. 
Flexible and lightweight so that you can carry it effortlessly.
Help to keep your greenhouse productive as it allows light.
Be almost invisible from a long distance. 
Be used as a pesticide as it prevents the insect's attack
Table Of Contents For This Page
To make sure you can find the information you want quickly,
we have prepared this content directory that will jump to the corresponding location when you click on it.
General
Application
For Bird & Insect Control Netting
Bird & Pest Control Netting has the following wide range of applications , Inquiry us for more solution.
General
Hot Selling
Products
Cabbage Netting to Protect Your Vegetable Field
Find the right Cabbage Netting below for your Field; All of our products are provided with up to 5 years warranty.
Mesh Size: 0.60×0.60mm
Shade Ratios: 20-22%
Air Transmission: 50%
Mesh Size: 8.5×2.5/2mm
Shade Ratios: 18-22%
Air Transmission: 80%
Mesh Size: 15x15mm
Shade Ratios: 18-20%
Air Transmission: 85%
Mesh Type: Tape knitted
Shade Ratios: 15-18%
Air Transmission: 25%
| | | | | | | | | |
| --- | --- | --- | --- | --- | --- | --- | --- | --- |
| Prooduct no. | Mesh                   cm | Item no. | Weight      gsm | Mesh size             mm | Shade percentage | Air Transmission | UV  Resistance  | Ideal for  |
| Standard | 6/6 | 17Mesh | 60 | 1.42×1.42 | 16-18% | 75% | 5 years | wasps, flies, and moths |
| Medium | 10/10 | 25Mesh | 70 | 0.77×0.77 | 18-20% | 60% | 5 years | fruit fly |
| Fine A | 12.5/12.5 | 32Mesh | 80 | 0.60×0.60 | 20-22% | 50% | 5 years | fruit fly,  leaf miner |
| Fine B | 16/10 | 40Mesh | 110 | 0.77×0.4 | 20-23% | 35% | 5 years | whiteflies,thrips |
| Extra Fine | 20/10 | 50Mesh | 130 | 0.77×0.27 | 25-29% | 20% | 5 years | lice, thrips, whiteflies, and leaf miners |
EyouAgro is a Insect Barrier Netting Manufacturer in China.
We can produce Insect Netting for crops, vegetables, and so on.
No matter if you are looking for a wholesale supplier or if you need a custom-made insect netting , we can all help.
Send inquiry to get an instant quote now!
More Netting Fasteners to Support Your Orchards
With the help of unique Plastic Accessories;
The Netting could be easily installed, fastened, and collected.
Try this netting calculator to get an approximate purchase requirements and send an enquiry to me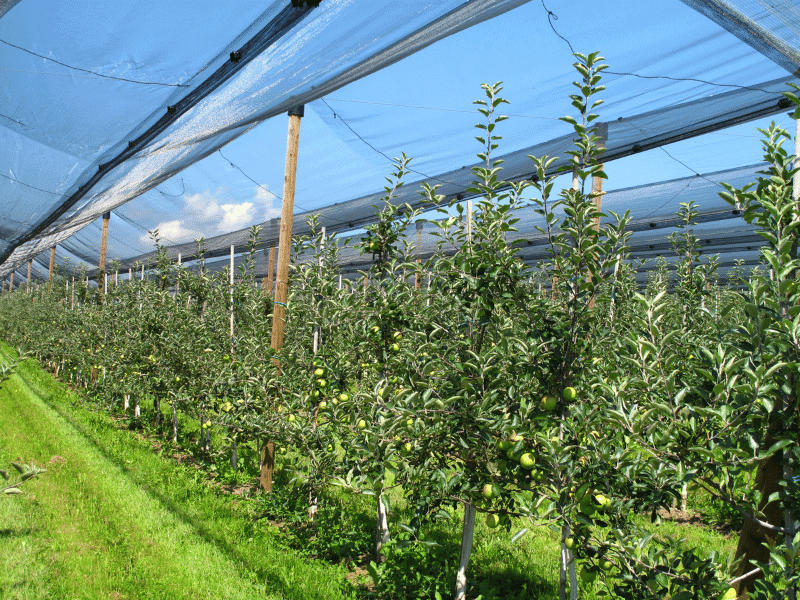 Our Netting Calculator will give you a custom agricultural netting quantity based on the Length & Width & Row of your orchard or vineyard netting project.
I purchased Bird Netting and Hail Netting from EyouAgro so many times, it is very fast shipping, good and accurate product, got them fast and as usual very good condition, all work great, all is great and love these goods. Obviously this is a five star of quality suppliers, we will certainly buy again EyouAgro products, and I wish you the business is thriving!
We are Italy professional raschel netting manufacturer. Few days ago I did an accelerated aging test on plant where I mounted your nettings. The test was very positive and products had worked very well. It is very happy to find EyouAgro company, they give us a very good reputation in our place, and let our customers to enjoy the cheap price with very high quality.
My name is Ms. Svetlana Gogu from Chilean Company. My company mainly operates on Agro Covers. Eyouagro with good quality, fine workmanship and timely reply, and important, cooperate with the Eyouagro without trouble, the sales person always can understand my emails meaning. This feeling makes me good, and comfortable. Thanks.
We received all set of documents a few minutes ago, everything is going smoothly here and hopeful we can have the goods soon at our warehouse. Your service is fantastic as I just place the order on January and the goods arrived so quickly, and you have fixed everything for me!
I like buying from Chinese company like yours.
A Brief
Self-Nomination​,
Why Choose EyouAgro?
Founded in 1996, EyouAgro uses Knitted and Woven technology to design, develop and manufacture Agriculture Protection Textiles.
EyouAgro offers clients a wide choice of standard and customized Polymer Netting for their farm or orchard needs.
Reliable Cabbage Netting Supplier in China
Keeping the plants protected from adverse weather conditions!
EyouAgro has a significant Hail proof netting manufacturing capability.
Certified by ISO9001, REACH, Rohs, SGS certification.
Automated Raschel production line, create over 10,000sqm per day.
Manufacture directly, large scale production and Well trained workers.
Whether you need Cabbage butterfly netting or need to custom any netting products.
EyouAgro always satisfies your needs.
Why should you use cabbage netting?
The primary reason for using cabbage netting is to protect your plants from insects, mesh, moths as well as butterflies.
What are the Most Unique Features of Cabbage Netting?
Most Unique Features of Cabbage Netting:
Isolate crops from insect: Cabbage netting is used to isolate cabbage to avoid plant pollution and plant destruction from insects.
The transparent net allows light: The net used for cabbage netting is a transparent net, it allows the light to enter your cabbage garden, and light is an essential element to grow crops appropriately.
Diversified types of nets according to your need: Different farms need different types of netting. Here you will get a suitable type according to your farm situation in EyouAgro.
Reduce chemical expense: Cabbage butterfly netting will protect your crops from insects, and it will reduce your expense for chemical pesticides that will also give a health benefit for you and the consumers.
Friendly to environment: The eco-friendly polyethylene and all the materials are very friendly to the environment.
How helpful is cabbage netting for farming cabbage?
Cabbage netting is very effective, and it helps cultivate your plants suitably and helps to give you a beneficial profit.
Is Cabbage Netting challenging to use?
Not at all. It is effortless to use. As this product is very lightweight, you can use it easily at any time. Moreover, the durability and integrity of Cabbage Netting make it more worthwhile.
Is cabbage Netting effective in preventing moths?
Yes, very effective. Cabbage Netting prevents moths specifically. That's why cabbage netting is also called cabbage moth netting.
When is the best period for Cabbage Netting?
Springtime is a decent time to use cabbage netting.
Do you require any machine for cabbage butterfly netting?
Generally, you do not need any machine for cabbage netting. You can use it very simply. It is shallow in weight and easy to use.
Premium Cabbage Netting Product specifications?
Air Transmission:  75%
Warranty:  5 years 
Color:  Off white, white, black, etc. 
UV obstruction:  5 years 
Fabric:  High-density polyethene 
Weight:  72 GSM
More
Related
Cabbage Netting Supplies
The Smart Way To Protect Your Field from Insects & Pests.
Using Cabbage Moth Netting will ensure that your crops are protected from moths.
Moths are small creatures similar to butterflies.
In addition to flying insects, cabbages are particularly prone to being stung by flies, so the Cabbage Fly Netting is the most effective netting among all of them.
Cabbage Butterfly Netting
This netting will protect your cabbages from being attacked by butterflies.
Cabbage Netting: The Comprehensive Guide (2021)
Eyouagro Cabbage Netting is an initiative under Textile for agricultural protection. You can cover your crops to protect them from insects, moths, butterflies, wind, hot temperatures, and heavy rain. And Cabbage Netting is a kind of cover of your agriculture crops. It is an intelligent way to protect your crops and harvest healthy foods in an enormous amount quickly.
What is Cabbage Netting?
Cabbage netting is a netting process for your vegetables to ensure healthy growing without any harmful effects of germs or any other infections. This netting process is very affordable so that you can maintain it for sure.
It is a very simple vegetable to cultivate, but the main problem of farming cabbage is an attack of various kinds of tiny microbes.
Cabbage Netting is the best pick for planting cheerfully and getting more and more profit for solving this problem. 
 What are the different types of cabbage Netting?
You will quickly get different types of cabbage netting for your farm. Cabbage Netting may differ according to colors, size, or even on the attack of different kinds of insects.
Depending on color and size
Cabbage netting can be of different types in color and size. You can choose it as you need for your farm. Here we mention some options.
In color, Cabbage Netting can be in white, black, off-white, etc.
In size, it can be 1.42×1.42, 0.77×0.4, 0.77×0.77, etc.
In weight, Cabbage Netting can be 72 GSM, 110 GSM, 90 GSM, etc.
Depending on the attack of insects:
According to the attack of insects, Cabbage Netting can be four varieties.
Cabbage Butterfly Netting
This netting protects your cabbage from the outbreak of butterflies.
For protecting your crops from moths, you can use Cabbage Moth Netting. Moths are like butterfly-type small beasts.
Insects are the worst enemy of cabbage, so Cabbage Insects Netting is the best netting among all types of Cabbage Netting.
Cabbage Bird Netting will protect your crops from birds, and you can grow your products sufficiently with your hard work.
Benefits of installing Cabbage Netting
There are vast benefits of Cabbage Netting, and it can change your farming life entirely. Here we will discuss
5 tremendous benefits of Cabbage Netting:
Cabbage Netting is the easiest way to protect your harvest from insects, butterflies, and other harmful organisms. Those toxic organisms can destroy your production, and Cabbage Netting will protect your crops from being devastated.
Using Cabbage Netting will reduce your expenditures on agriculture. To prevent insects, you had to use pesticides in the past, but now you can use Cabbage Netting. It will reduce the use of chemicals so you may save money. On the other hand, the use of chemicals is hazardous for health and the environment. When you use Cabbage Netting instead of chemicals, it will be advantageous for nature and us.
The materials of Cabbage Netting are very sustainable. After buying the first term, you can use this net for a few years. It will be worthwhile for you
Cabbage Netting is lightweight. Without any difficulty, you can manage Cabbage Netting
The looks of Cabbage Netting are pretty good, and crystallization behaviors enable you to look good. The cabbage netting will not destroy your garden beauty; you can move quickly on your plantation.
Application Area of Cabbage Netting
a. Allrounder safety
Cabbage netting is an allrounder safety guard for your crops. It will prohibit attacks on all the insects out there.
b. As a Protector of UV
You know that sometimes UV rays can be toxic to your crops, and Cabbage Netting is UV stabilized. The polyethylene that is used in the making of Cabbage Netting is UV stabilized. So Cabbage Netting can give protection from UV Rays.
c. Fruit gardens. 
Vegetables like cabbage Netting are suitable. Furthermore, it is acceptable for a fruit garden also.
5 Steps on How to install Cabbage Netting for Your Citrus Farm? 
5 steps for installing Cabbage Netting: 
Step 01: First, you need to secure the metal or wooden saddles using a drill.
Step 02: Measure your farm ratio and cut your line properly.
Step 03: Assemble all the slices of pipe of metal or wood one by one.
Step 04: Then join it to make a frame of your farm and loop your net over this structure.
Step 05: Then secure the net with some small screws or pins.
Look! How simple the process is! EyouAgro Cabbage netting is very effective, and installation of Cabbage Netting is more susceptible.
When to install the Cabbage Netting to get the timing right?
Perfect span for installing Cabbage Netting:
Cabbage is a winter vegetable, so the best time for sowing seed is in June, July or spring. The perfect span for installing Cabbage netting is spring. Cabbage netting will help to make the soil and environment ideal for cultivating.
5 tips for Cabbage Netting
Do:
Install Cabbage Netting in proper time.
Buy your Cabbage Netting from a trustworthy company. EyouAgro might be the best choice.
Don't:
Apply inappropriate cabbage netting to your farm. Choose it wisely.
Apply cabbage netting in a place where the humidity level is very high.
Try to create it so uncomfortable for your crops.
How to buy Premium Cabbage Netting?
In the beginning, you must understand the correct type of Cabbage Netting for your farm.
EyouAgro is always there to provide you with all the agriculture protection textile products. EyouAgro Cabbage netting is one of the best services of this company.
You can inquire any time here, and they are always available for you. Just order your preferred cabbage netting. EyouAgro will deliver it to you at the right time. 
Conclusion
EYOUAGRO is a trusting name of agriculture protection textile. Agriculture crop cover is a satisfactory way to protect your crop easily. Cabbage production is straightforward, and the caring technique of cabbage is effortless, and cabbage netting will help your harvesting.
You surely can trust on EyouAgro Cabbage Netting for the best outcome for your plantation. If you have a further inquiry, you can ask anything on info@eyouagro.com.
Hey, I'm Kevin Lyu, the founder of Eyouagro.com , Family-run business
An expert of agriculture protection textile specialist .
In the past 24 years, we have helped 55 countries and 150+ Clients like farms, orchards , vineyards to protect their plants. The purpose of this article is to share with the knowledge related to agriculture growing protection for making the plant healthier and stronger.
EYOUAGRO Repsects Quality Standards