Protect and property from severe weather and unexpected hail damage for the protection of fruits, crops, gardens, and orchards.
Commercial Insect Barrier Netting
The PEST-PROOF Netting Solution For High-Yield Orchard!
EyouAgro hail netting makes high-density polypropylene (HDPE) and protects from sudden hail , frost, rain, and wind.
HD polypropene with UV Stabilizer material
Lightweight and easy to install,
Hole sizes from 6 mm to 10 mm, and width from 1 to 8m,
Color of the net: black, white, gray, and transparent.
Protection from hail, wind, and sunburn.
5 – 10 Years Quality Guarantee
Table Of Contents For This Page
To make sure you can find the information you want quickly,
we have prepared this content directory that will jump to the corresponding location when you click on it.
General
Application
For Bird & Insect Control Netting
Bird & Pest Control Netting has the following wide range of applications , Inquiry us for more solution.
General
Hot Selling
Products
Hail Netting to Protect Your Fruit Orchard
Find the rights Hail Netting below for your Orchard; All of our products are provided with up to 5 years warranty.
Mesh Size: 1.42×1.42mm
Shade Ratios: 16-18%
Air Transmission: 75%
Mesh Size: 0.77×0.77mm
Shade Ratios: 18-20%
Air Transmission: 60%
Mesh Size: 0.60×0.60mm
Shade Ratios: 20-22%
Air Transmission: 50%
Mesh Size: 0.77×0.27mm
Shade Ratios: 25-29%
Air Transmission: 20%
| | | | | | | | | |
| --- | --- | --- | --- | --- | --- | --- | --- | --- |
| Prooduct no. | Mesh                   cm | Item no. | Weight      gsm | Mesh size             mm | Shade percentage | Air Transmission | UV  Resistance  | Ideal for  |
| Standard | 6/6 | 17Mesh | 60 | 1.42×1.42 | 16-18% | 75% | 5 years | wasps, flies, and moths |
| Medium | 10/10 | 25Mesh | 70 | 0.77×0.77 | 18-20% | 60% | 5 years | fruit fly |
| Fine A | 12.5/12.5 | 32Mesh | 80 | 0.60×0.60 | 20-22% | 50% | 5 years | fruit fly,  leaf miner |
| Fine B | 16/10 | 40Mesh | 110 | 0.77×0.4 | 20-23% | 35% | 5 years | whiteflies,thrips |
| Extra Fine | 20/10 | 50Mesh | 130 | 0.77×0.27 | 25-29% | 20% | 5 years | lice, thrips, whiteflies, and leaf miners |
EyouAgro is a Insect Barrier Netting Manufacturer in China.
We can produce Insect Netting for crops, vegetables, and so on.
No matter if you are looking for a wholesale supplier or if you need a custom-made insect netting , we can all help.
Send inquiry to get an instant quote now!
How to
Choose
Insect Netting Supplies
The Smart Way To Protect Your Greenhouse from Adverse Weather.
More Netting Fasteners to Support Your Orchards
With the help of unique Plastic Accessories;
The Netting could be easily installed, fastened, and collected.
Try this netting calculator to get an approximate purchase requirements and send an enquiry to me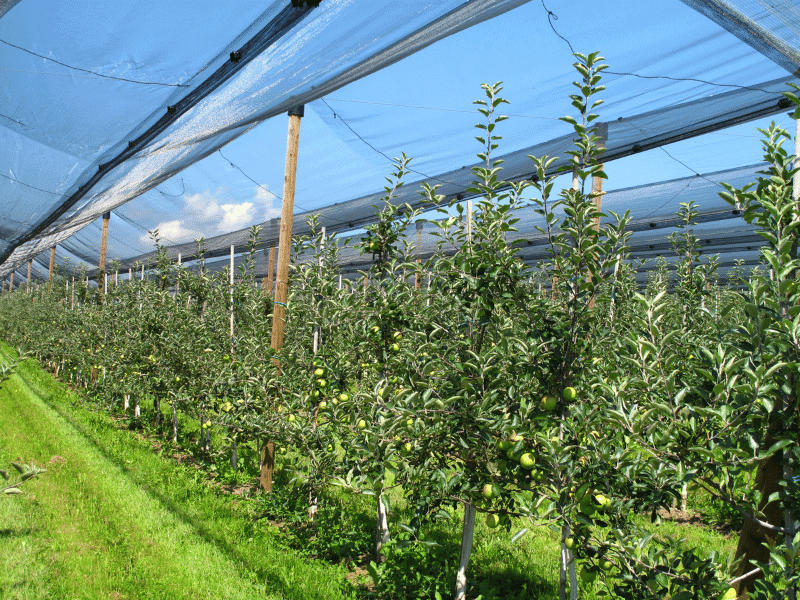 Our Netting Calculator will give you a custom agricultural netting quantity based on the Length & Width & Row of your orchard or vineyard netting project.
I purchased Bird Netting and Hail Netting from EyouAgro so many times, it is very fast shipping, good and accurate product, got them fast and as usual very good condition, all work great, all is great and love these goods. Obviously this is a five star of quality suppliers, we will certainly buy again EyouAgro products, and I wish you the business is thriving!
We are Italy professional raschel netting manufacturer. Few days ago I did an accelerated aging test on plant where I mounted your nettings. The test was very positive and products had worked very well. It is very happy to find EyouAgro company, they give us a very good reputation in our place, and let our customers to enjoy the cheap price with very high quality.
My name is Ms. Svetlana Gogu from Chilean Company. My company mainly operates on Agro Covers. Eyouagro with good quality, fine workmanship and timely reply, and important, cooperate with the Eyouagro without trouble, the sales person always can understand my emails meaning. This feeling makes me good, and comfortable. Thanks.
We received all set of documents a few minutes ago, everything is going smoothly here and hopeful we can have the goods soon at our warehouse. Your service is fantastic as I just place the order on January and the goods arrived so quickly, and you have fixed everything for me!
I like buying from Chinese company like yours.
A Brief
Self-Nomination​,
Why Choose EyouAgro?
Founded in 1996, EyouAgro uses Knitted and Woven technology to design, develop and manufacture Agriculture Protection Textiles.
EyouAgro offers clients a wide choice of standard and customized Polymer Netting for their farm or orchard needs.
Insect Barrier Netting Manufacturer in China
Keeping the plants protected from adverse weather conditions!
EyouAgro has a significant Insect Barrier Netting manufacturing capability.
Certified by ISO9001, REACH, Rohs, SGS certification.
Automated Raschel production line, creating over 10,000sqm per day.
Manufacture directly, large scale production and Well trained workers.
Whether you need insect barrier netting or need to custom any netting products.
EyouAgro always satisfies your needs.
What is insect barrier netting?
Insect barrier netting is a product that can be used to protect crops from insect infestation. It consists of insect-proof fabric draped over fields and left in place until the crop has been harvested.
In simple, Insect barrier netting, also known as fabric insect barrier netting, consists of insect-barrier fabric.
How does Insect barrier netting works?
Eyouagro Insect protection netting is constructed of a slitted polyester fabric that contains loops in the weave that are just big enough for bugs to crawl through.
Insect barrier netting works to stop crawling insects from entering enclosed spaces. So that Insects could not be capable of squeezing through the small gaps between strands of fabric 
The insect shield also blocks sunlight, making it difficult for insects to find their way outside the barrier and into your home or other location you're trying to protect against insect infestation.
In this way, it's preventing them from getting inside your farm, where they could pose a risk to your plant's health. 
Does Insect Barrier Fabric is Block UV Rays?
Yes, Eyouagro insect netting and insect barrier fabric can block UV rays.
Insects are more attracted to UV light than humans. This means that insect netting should stop them from entering your home, even if it doesn't block out the sun's rays. It features UV protection to block the sun's rays from propagating through the netting or fabric.
The mesh will not allow UV light in a while, keeping insects out. This means that plants can grow underneath without being harmed by hungry pests like caterpillars, moths, and beetles.
Why use insect-proof netting?
Insects are a huge problem in the world. Eyouagro insect-proof mesh-made anti-insect netting is designed to protect against these insects. It is a great way to help reduce the risk of disease in plants.
If you want to reduce the attack from Insects and other diseases that can affect your crops, you need to use insect-proof mesh. You can simply use the Eyouagro insect barrier fabric or insect barrier netting.
What is the mesh size of insect-proof netting?
Insect-proof netting is also called mesh barrier screening or insect exclusion fabric because it blocks insects from entering an area without letting air pass through.
Insects cannot penetrate the tiny openings in insect-proof netting, so they can't enter an area. Insect proofs nets come with different mesh sizes or holes. The most common types are 12x12, 18x18, 24x24, and 30 x30 inch meshes that provide complete coverage on medium to large areas.
You can choose according to your requirements. Eyouagro always is there to fulfill your needs.
Exact Mesh Size of Insect Proof Netting:
Insect Proof Net with Holes of 0.025 Inches: Smaller insects like mosquitoes and flies cannot get through these tiny holes (less than 24 square inches);
Insect Proof Net with Holes of 0.075 Inches: Insects like beetles and dragonflies are blocked because they can't fit through the larger holes in size (more than 96 square inches).
Can you cut insect barrier netting?
Insect fabric barrier is an insect-proof fabric that is used to cover ground or structural surfaces. Eyouagro Insect netting can be easily cut and sewn with ordinary household scissors into any shape desired. This means that you can cut Insect Barrier Netting without worrying about making an expensive mistake.
Does insect netting protect from frost?
Insect nets do not offer any cold-weather protection and can, in fact, trap moisture, which leads to increased condensation on the leaves of your plant. This may lead to a variety of fungal diseases that could potentially kill your plants.
Insect netting is intended to keep insects away from your garden, not provide frost protection!
You may try Eyouagro Frost Protection Netting.
Still Have a Question We Haven't Answered?
If there is no information you want on the FAQ pages? It doesn't matter.
Click the
"

Submit Your Question

"
and fill in your questions, we will reply to you within 2 hours.
If your question is adopted by EyouAgro and showing in the FAQ Pages.
You will get a 3% discount or a 100 USD coupon in your first order, your email address will be the only evidence.
More
Related
Hail Netting Supplies
The Smart Way To Protect Your Orchard from Adverse Weather.
The Plant insect netting at Eyouagro Produce is constructed from the finest quality materials for maximum durability.
Plant insect netting protects your plants against insects such as whitefly, aphids and leafhoppers by trapping them within its mesh weave before they can lay their eggs on your valuable crops.
This premium Plant insect netting will help you increase production while reducing damage to your crops!
Eyouagro Produce Bird and insect netting is a company that aims to provide the best, most environmentally friendly bird and insect netting for you. Bird netting is an essential tool in any garden or farm, as it helps keep birds away from crops, preventing damage to your harvest. It is a highly flexible, durable mesh that can be used to keep birds and insects away from crops.
The insect barrier row cover made by Eyouagro is a great choice for farmers. It protects crops from insect damage and helps prevent insect-borne diseases. This insect barrier row cover also offers protection against hail, frost, wind, dust storms, snow and rain. It's the perfect all-weather farm wrap!
Extra Fine Insect Barrier Netting
Eyouagro is a company that specializes in producing premium extra fine insect barrier netting. We use the extra fine mesh size to keep out pests like mosquitoes and other bugs from your home or business. This extra protection will help you sleep better at night, knowing that you are protected against insects!
Insect Barrier Netting: The Comprehensive Guide (2021)
Eyouagro Insect Barrier Netting is the perfect solution for those looking to protect their plants from Insects without using chemicals. Insect barrier netting can be a great alternative because it does not harm insects but will keep them out of your garden and away from your beloved plants!
What is Insect Barrier Netting?
Insect barrier netting is a mesh-made barrier fabric that can be used to protect your plants from insects. Insects are incredibly detrimental to plant life because they can spread diseases and cause destruction on a massive scale. Insect Barrier Netting protects by blocking insect access while allowing the air, water, and nutrients in!
Benefits of Installing Insect Barrier Netting?
Insect barrier netting keeps away. Insects can ruin crops.
Insects are not strong enough to break through, and the netting is tight-knit.
Keep also birds from eating crops! Birds will get tangled in the mesh if they try to fly into it.
Very durable. Insects can't break through them, so they won't tear or wear out with time!
Protect plants while still allowing sunshine and water in. Insect barriers can also be used as a kind of outdoor screen for keeping bugs out of your home!
Easy to install, very versatile, can install inside or outside of the garden and even houses.
Where is Insect barrier Netting Used?
Insect barrier Netting is a form of insect netting that helps to keep pests out. This insect-barrier product has many uses and can be applied in nearly any location where insect control might be needed.
Insect barrier Netting Applications Area:
Around crops, such as fruit trees or berry bushes, to prevent damage from insects
Around farms, fields, greenhouses for pest prevention purposes
In homes to ward off bugs
5x Steps on How to Install Insect Barrier Netting In Your Farm?
Step 01: Measure the length and width of your crop.
Step 02: Determine what height you would like to install your netting; typically, about one foot off of ground level will be sufficient.
To avoid tangling in tree branches or other obstacles, make sure to install your netting at a height above these.
Step 03: Install the top of your insect barrier Netting by tying it securely in place.
Create an opening for birds or other ground-level pollinators by leaving a few inches of slack from one side.
Step 04: Weave the bottom of your netting.
Step 05: Bring the slack edges together and tie a secure knot at both ends.
You have successfully installed insect barrier Netting.
Repeat this process for all areas you would like to cover with Eyouagro protective netting.
When to install insect barrier netting
There are two times insect barrier Netting installation is needed: before and after insect pest infestation. It can be installed around the perimeter of a farm or inside. [Depending on what type of insect pests need to be repelled.]
Install insect barrier Netting before an insect pest infestation when it protects against them entering your farm. Insect barrier Netting installation after insect pests have infested the area will help keep them from coming back in, but you should install Premium EyouAgro Insect Barrier Netting to protect the insect attack on your crops.
7x Tips for Insect Barrier Netting
Dos'
When you first start, cut the insect barrier into strips of the desired width (usually 1-2 inches wide).
Lay down the insect barrier flat on top of where you want to put it.
Ensure there are no gaps between pieces or at edges; overlap ends by ½ inch if necessary.
Use duct tape to seal any seams along edge joints or edges without overlapping fabric sections.
Don't
Installing the netting too close to the ground and trees. This can lead to gaps where insects will be able to enter your yard or garden area.
Not measuring correctly before purchasing insect barrier Netting. Buying insect barrier Netting with too much excess length leads to a waste of money and a less effective installation process.
Select Wrong insect barrier Netting. Insect netting is a product that not all insect pests are attracted to and repelled by, so it's important to select which type of insect pest you're targeting before purchasing the suitable insect barrier Netting for your yard or garden area.
How to buy Eyouagro Insect Barrier Netting?
You're looking for Insect Barrier Netting, but you don't know where to start. Eyouagro has the Insect barrier Netting that you need to protect your plants from harmful pests. We have Insect barrier Netting at affordable prices and offer free shipping with orders over
Conclusion
The Eyouagro Insect Barrier Netting is a highly effective way to protect your plants and garden from insects. It's lightweight, easy to install, and can protect up to 2-10 acres of space with its 3-foot height. Whether you're looking for protection against mosquitoes or ants, this netting will be able to keep them out!
For more information about the product or to request an estimate, please contact us at sales@eyouagro.com.
Hey, I'm Kevin Lyu, the founder of Eyouagro.com. Family-run business.
An expert of agriculture protection textile specialist .
In the past 24 years, we have helped 55 countries and 150+ Clients like farms, orchards , vineyards to protect their plants. The purpose of this article is to share with the knowledge related to agriculture growing protection for making the plant healthier and stronger.
EYOUAGRO Repsects Quality Standards